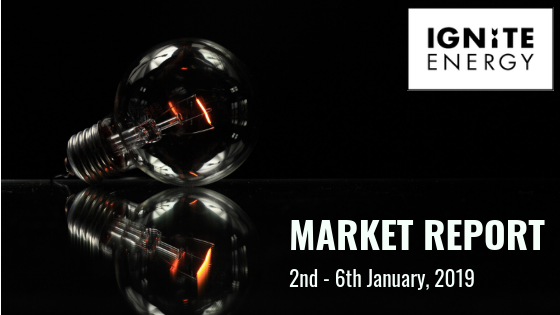 WEEKLY ENERGY MARKET REPORT: 2ND – 6TH JANUARY 2019
January 2, 2019
Ignite bring you the latest energy news across the UK and Europe. We have the expertise when it comes to translating energy industry consumption trends. Here's the latest news from the UK, Europe and the rest of the world.
The energy markets experienced a downward price movement during the last two weeks of December. Oil continued its bearish momentum and lost more than 7% with Brent Crude settling at $52.20/bbl despite OPEC's (Organization of Petroleum Exporting Countries) decision to reduce oil production.
Natural gas and power prices plunged amid mild weather in French and Germany. UK prices mirrored this price behaviour due to an oversupplied system caused mainly by a lower than seasonal demand levels.
However, a colder spell is expected for Q1 2019. Weather forecasts suggest cooler average temperatures in Continental Europe and the UK.
THE UK ENERGY MARKET LAST WEEK
Mild temperatures during the festive period have driven natural gas and power prices to low levels, however, prices seemed to recover this morning amid revised forecasts for cooler temperatures.
The Pound is still trading sideways and is close to 1.10 per euro due to uncertainty around the Brexit withdrawal.
The general energy market complex is still weak with Brent Crude trading far below the benchmark of $60/bbl, and is close to $53.40/bbl due to a surge in supply and continuing worries over a global economic slowdown.
UK NATURAL GAS PRICES
UK natural gas prices dipped during the last two weeks of the year amid milder than expected temperatures, adequate flows from Norway and lower than expected heating demand.
Weather conditions have a greater impact on prompt prices and as a result, day-ahead moved 13.5% lower in the period between 17 Dec and 28 Dec, closing at 57.20p/th. Month-ahead contracts declined 7.5% during the same time and settled at 62.70p/th.
Price movement across the curve saw more moderate movement during this period. Font-curve, Sum-19 plunged by 6.6% and Win-19 decreased by 5.5% during the same two-week period, thus closing at 55.18p/th and 63.45p/th respectively.
UK ELECTRICITY PRICES
UK power prices followed the price movement of the weak energy market complex. Coal markets moved lower and carbon allowance contracts for one-year delivery traded sideways during the end of December.
Month-ahead declined by 4.1% during the two-week timespan and settled at £65.15/MWh. Sum-19 closed 3.8% lower at £57.33/MWh and the long-term, Win-19 declined by 3.2% at 63.28/MWh during the last two weeks of December.
Day-ahead showed an upwards movement of 5.7% with a price of £67.30/MWh in the same period. This movement, however, is due to weak renewables (specifically wind generation), which tend to impact prompt prices.
 MACROECONOMICS
Germany's preliminary inflation rate was announced and is expected to ease off to 1.7% in December 2018 from the 2.3% figure of the previous month.
In terms of macroeconomics Brexit is at the forefront of the news, as we await the upcoming vote on the withdrawal deal. Theresa May cancelled the vote on the deal that was due on the 11th December and the vote is now scheduled for the week commencing on the 14th January.
The pound has lost strength and has been trading sideways during the last few weeks. Currently is at 1.10 per euro. That's a significant drop on a monthly basis, where pound lost almost 1.50% against the euro.
WHAT TO WATCH THIS WEEK
Prices on Monday rose amid forecasts for colder temperatures thus recovering from the steep falls during the last weeks of December.
Data on Non Farm Payrolls in the USA for December will be released on Friday 4th January at 03.00pm UK time.
To find out more contact us to see how we can help your business reduce energy consumption.