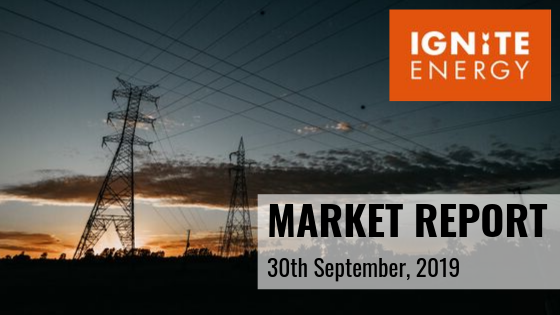 WEEKLY ENERGY MARKET REPORT: 30th SEPTEMBER 2019
September 30, 2019
Ignite bring you the latest energy news across the UK and Europe. We track and analyse changes in the energy market to keep you informed and up to date. Here's the latest news from the UK, Europe and the rest of the world.
The British wholesale power market has experienced no major market price fluctuation in the past week. After last week's report that some nuclear power plants may contain faulty parts, EDF cleared any maintenance work needed to rectify this.
This week French ministers criticised EDF over their continuous power delays and EDF's most recent announcement regarding welding problems at some of its nuclear reactors and extra costs to complete the Hinkley Point C nuclear plant. This could cost up to £3.6 billion along with causing further delays.
In the wider energy complex, oil prices decreased by 5.3% due to a British-flagged tanker that was detained by Iran for 10 weeks, docking in Dubai on Saturday. The tanker was involved in a standoff that has stoked tensions along a vital global shipping route for oil.
The UK energy market last week
British wholesale power prices settled 1% lower on a week-on-week basis during a very volatile week in the global energy markets.
British wholesale natural gas prices have been decreasing steadily last week with no drastic movements despite a relatively high level of demand for gas.
As of this morning, power and natural gas prices look to have softened despite a drop in Norwegian flows
UK Natural Gas prices 
British wholesale natural gas prices decreased by 2% on the curve contracts on average, during last week.
Day-ahead closed the week at 24.80p/th, that is 2.3% lower, week-on-week, while month-ahead decreased by 8.3% within-week and settled at 30.75p/th.
In terms of the curve contracts, Win-19 has steadily been decreasing by 3.7% before settling at 47.25p/th whereas Sum-20 decreased by 2.6% at 45.00p/th.
UK Electricity Prices
British wholesale power prices have had little movement with the Winter-19 contract trading in line with prices seen on Monday morning at £53.25/MWh.
Day-ahead fell by 2.5% and closed at £36.00/MWh while month ahead increased by 18% and settled at £51.40/MWh.
Win-19 settled at £52.90/MWh and Sum-20 at £48.65/MWh, 2.5% and 2.4% lower within-week, respectively.
Macroeconomics
On the macroeconomic front, The United Kingdom is due to leave the European Union on the 31st of October with the Prime Minister stating it will happen whether a deal is there or not. However, MPs have passed a new law requiring the Prime Minister to seek an extension. EU leaders believe a new extension is likely. This has had an impact on the Pound, starting the previous week at $1.25, we now see a drop in confidence as it decreases to $1.23.
The Pound slightly weakened against the Euro during the weekend and is currently priced at €1.125.
what to watch this week
Large shifts in supply come from Norway, with Langeled up 29mcm/d at 33mcm/d. This is due to the end of several upstream maintenances at the end of September. We should expect the return of Norwegian flows to the UK as an extended period of planned maintenance is scheduled to come to a halt. It is therefore likely that flows into Langeled will ramp back up providing system flexibility. Last year Langeled was operating at 28 MCM/D compared to this year a 5 MCM/D.
On the macroeconomic front, present temperatures are not dipping cool enough to significantly impact gas demand which is forecast to remain between 160-170mcm. There are 4 LNG tankers due in next week so we should see LNG send out remain high throughout the week.
Contact us to see how we can help your business reduce energy consumption.