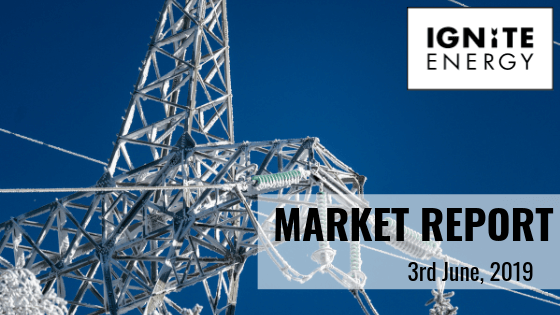 WEEKLY ENERGY MARKET REPORT: 3rd JUNE 2019
June 3, 2019
Weekly Energy Market Flash
Ignite bring you the latest energy news across the UK and Europe.
The British wholesale natural gas and power markets closed the week significantly lower with front-season contracts dropping by more than 2.5% on Friday, day-on-day, at a settlement price of £55.85/MWh and 52.35p/th for the power and gas contract respectively.
The week started more firmly for both markets, however renewables generation picked up significantly from Thursday onwards with wind supply contributing more than 7GW to the generation mix. On top of that, both weather forecast models, the GFS (Global Forecast System) and the ECMWF (European Centre for Medium-range weather Forecasts) agreed on a warmer weather outlook for the period ahead, thus adding more pressure on both prompt and curve contracts.
In the wider energy complex, Brent Crude oil dipped by more than 11.00% last week and is currently trading around $61.00/bbl as we see a continuous build-up in the US oil inventories. In addition, the USA President imposed tariffs on Mexican goods. The new tariffs added further pressure in the oil market on top of the ongoing trade war between the USA and China.
The UK energy market last week
British power prices softened by 2.50% on average during the previous week due to an increase in renewables generation and amid revised weather forecast for a warmer outlook than previously anticipated.
Wind generation started low but gradually increased to levels above 6GW.
Electricity generation in the UK continues without coal contribution for more than two weeks now, thus setting new records.
The British wholesale natural gas market fell even further in today's opening. The front-month contact reached a three-year low this morning and is currently trading at 28.05p/th.
UK Natural Gas prices
British wholesale natural gas prices continued the down movement during the last week. Steady Norwegian flows kept the system length while adequate LNG nominations eased off prices even further.
Day-ahead closed at 26.30p/th, that is 10.80% lower from last week whereas month-ahead decreased by almost 10.00% from last week before settling at 27.20p/th.
In terms of curve contracts, Win-19 settled at 52.15p/th and Sum-20 at 44.12p/th, a decrease of 3.20% and 2.70% for both contracts respectively within-week.
UK Electricity Prices
Power prices followed the natural gas movement and moved significantly on the downside.  Increased renewables generation towards the end of the week, warm weather outlook and zero coal generation showed the way to both prompt and curve contracts despite demand being relatively strong during all days.
Day-ahead closed on Friday 1.7% lower, week on week, at £38.35/MWh while month ahead dropped by 5.00%, at £38.80/MWh.
Win-19 settled at 56.04 % and Sum-20 at £47.66/MWh, that is 2.30% on the downside for both contracts.
Macroeconomics
The GfK consumer confidence index in the UK increased to -10 in May 2019. It was held steady at -13 for the past three months as the consensus among consumers did not indicate overspending habits. The result illustrates that despite the overall uncertainty around Brexit, consumers have slightly increased their spending thus adding three points in the confidence index.
What to watch this week
Outlook: Prices may  continue the downward movement as we see increased Norwegian flows, steady LNG imports and a warm weather outlook. The wider energy market bears some risk as geopolitical tensions might influence any bullish price drivers.
Friday June 07: Germany's Balance of Trade for April will be announced, at 07.00 UK time. In the previous month, the German economy achieved a surplus of €22.7 billion, that was 7.70% down from February's surplus.
To find out more contact us to see how we can help your business reduce energy consumption.