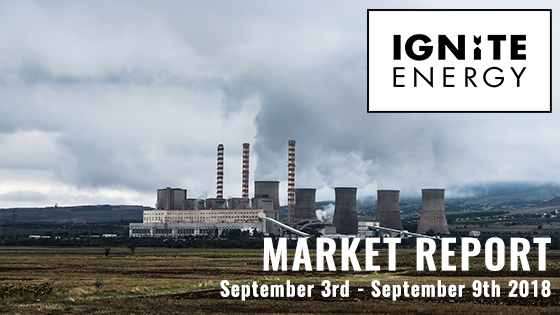 Weekly Energy Market Report: 3rd – 9th September 2018
September 3, 2018
Weekly Energy Market Flash
Week 35: 27th – 31st August 2018
Ignite bring you the latest energy news across the UK and Europe.
Gas and electricity prices continued to rally the last week; prices rose about 2% week on week. Occasionally, we observe a small "pull back" (the pull back is a moment when contracts are trading lower than a day before), however these situations are rare, and don't influence the overall bullish sentiment. The reasons behind soaring prices remain the same.
The rising cost of gas, coal and oil edged on the overall cost of electricity. The current price of gas and electricity has not been seen for more than 12 years.
The UK energy market last week:
UK Natural seasonal gas prices edged up higher on Monday morning, amid a hugely undersupplied gas demand system. A number of planned and unplanned outages of gas flowing from Norway contributed to soaring prices today.
Electricity prices mirrored the gas price movement. Support was also given by a rising oil price which reached almost $78/bbl. Rising coal prices also supported the price movement.
Oil prices gained ground, despite strong oil output from OPEC countries and rising production of US Oil due to U.S sanctions, which limited Iranian oil exports.
The Dollar reached a one week high, amid tensions around global trade negations fuelled demand for the American currency. As a result, the pound lost about 0.7% against the dollar and it is currently trading at 1.28 vs ESD and 1.107 against the euro.
For more in-depth analysis on the UK energy market visit https://www.igniteenergy.co.uk/updates/.
UK Electricity Prices:
Month ahead settled at £66.80/MWh (3% up week on week), while day ahead consolidated around £67.30/MWh (1.8% week on week).
Wind generation stands for about 5% of stock, which is a relatively low share of the power generation mix. Most power is generated from gas today.
The long term UK electricity contract Win-19 was trading higher by 0.3% and settled at £62.77/MWh on Friday, Sum-20 closed at £52.00/MWh, up by 1.4%. Win-19 and Sum-20 are currently about £17.40/MWh and £14.12/MWh respectively, trading higher than the same time last year. The strengthening of long-term contracts was driven by rising cost of coal and gas prices. Fears over French nuclear availability are still in place. In addition, the sanctions on Iran from November -18 contributed to rising oil prices. Front curve contracts such as Win-18 and Sum-19 contracts were also trading up. Win-18 settled at £69.90/MWh and Sum-19 was at £57.78/MWh on Friday.  Win-18 and Sum-19 are currently about £23.06/MWh and £17.69/MWh respectively, trading higher than the same time last year
UK Natural Gas prices:  
Day ahead gas contract prices surged significantly week on week. Day  ahead settled at 68.50p/th (up by 2.2% week on week) on Friday, while month ahead was up by 2.7% and closed at 68.50p/th. The front winter contract (Win-18) finished at 73.02p/th, up by 1.2% week on week, while Win-19 was at 65.20p/th, up by 1.6%. Month ahead and the front winter prices gained about 2.3% week on week, whist further contracts such as Win-19 and Sum-20 moved up by 1.8%.
Macroeconomics:
UK car manufacturing slumped in July by 135,954 compared to the last year. Car investment dropped on "Brexit worries". Political uncertainty saw a few car manufacturers moving to Europe.
What to watch this week:
Both gas and electricity prices are set to remain strong and continue soaring. The gas maintenance period will contribute to a tightening UK gas supply market.
Upcoming sanctions on Iran will push the global oil prices up, so the overall cost of energy in the UK will rise.
The IHS Markit/CIPS UK Manufacturing PMI fell to a 25-month low of 52.8 in August from 53.8 in July, and below market expectations of 53.8.
To find out more contact us to see how we can help your business reduce energy costs – https://www.igniteenergy.co.uk/contact-us/