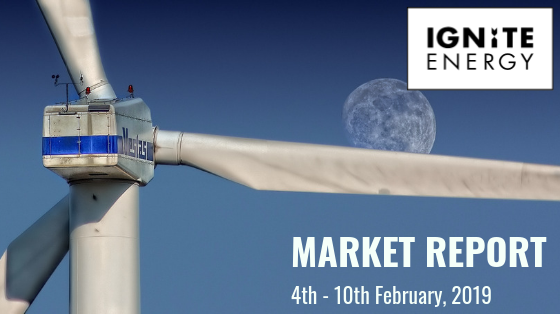 WEEKLY ENERGY MARKET REPORT: 4TH – 10TH FEBRUARY 2019
February 5, 2019
Ignite bring you the latest energy news across the UK and Europe. We have the expertise when it comes to translating energy industry consumption trends. Here's the latest news from the UK, Europe and the rest of the world.
Last week has been bearish for the UK power and natural gas markets despite the cold temperatures. Demand has been consistently above seasonal normal levels. However, adequate supplies from Continental Europe and increasing LNG flows have kept the system well supplied through the cold spell.
Oil prices increased, week on week, despite a down movement at the start of the week. Oil settled at $62.75/bbl on Friday, nearly 5% higher from last Monday's close. As of today morning, however, the oil market has opened stronger amid OPEC-led supply cuts and the US sanctions on Venezuela's petroleum production. Currently benchmark, Brent Crude oil is trading at $62.70/bbl.
The UK energy market last week
The UK power and natural gas markets moved by more than 3% on the downside, on average, during last week due to a consistently strong supply and despite the high levels of heating demand.
Norwegian flows through Langeled were at maximum capacity for another week throughout this period of cold temperatures.
Average UK temperatures are expected to be milder in the following weeks based on the most recent short-term weather forecast. However, most recent revisions in the longer-range forecast suggest a cooler outlook.
UK Natural Gas prices
UK natural gas prices declined throughout the last week amid healthy supply flows from Norway, strong flow through the Dutch interconnector and a milder weather outlook for February.
Wind generation started the week at high levels but lowered down as we moved towards the end of the week due to the cold temperatures. As a result, the grid became more reliant to CCGT, coal and nuclear generation.
Day-ahead closed at 50.10p/th and month-ahead at the same price of 55.10p/th, a decline of 9.3% and 9.2% respectively, week on week.
In terms of curve contracts, Sum-19 settled at 48.29p/th on Friday, that is 3.7% lower week on week while Win-19 settled at 59.98p/th, that is 1.1% lower during the same time period.
 UK Electricity prices
UK power prices eased off during the previous week due to softening renewable generation, weaker coal and carbon markets and a mild weather outlook for the upcoming weeks.
Day-ahead closed the week at £58.55/MWh and month-ahead at £53.00/MWh, that is 3.1% and 9.1% lower week on week for both contracts respectively.
Sum-19 contract settled at £51.56/MWh on Friday while Win-19 closed at £59.79/MWh. Therefore, both curve contracts declined by 2.6% and 1.0% on a weekly basis respectively.
Macroeconomics
The UK parliament voted against any amendment that would require a legal obligation on behalf of the UK to extend its withdrawal deadline further from the 29 March 2019. The Pound has moved sideways in the last couple of weeks and is currently trading at 1.14 per Euro.
USA's Fed has decided not to increase the interest rates and as analysts suggest it is unlikely an interest hike will occur in this year.
 What to watch this week
UK gas and power markets opened softer on Monday as temperatures are forecast to stay above seasonal average levels in February.
The BoE is expected to take a decision on interest rates this Thursday at 12.00pm UK time.
To find out more contact us to see how we can help your business reduce energy consumption.