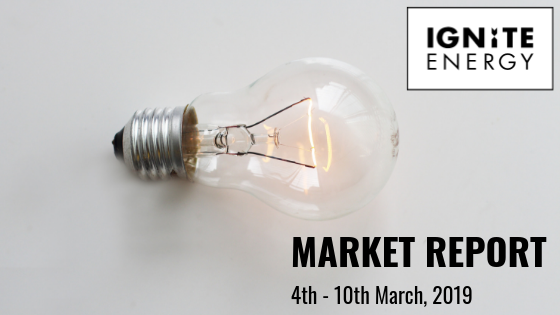 WEEKLY ENERGY MARKET REPORT: 4TH – 10TH MARCH 2019
March 5, 2019
Weekly Energy Market Flash
Ignite bring you the latest energy news across the UK and Europe.
Last week, natural gas and power prices edged higher, hence reflecting the cooler revised weather outlook for the first week of March. The week on week price uplift is also attributed to weak wind generation during most days as well as curtailed Norwegian imports that were caused by outages.
The overall energy commodity complex strengthened throughout the week with Brent Crude moving by half a percent on the upside and settling at $65.07/bbl on Friday. The carbon market however illustrated substantial gains with EU carbon allowances moving by more than €3.00/t higher on a weekly basis before settling at €22.30/t.
The Pound's value has increased against the common European currency following Brexit news last week. The markets have viewed Theresa May's revised Brexit timetable with optimism. The new meaningful vote will take place on 12 March and depending on the outcome a vote on extending Article 50 might even take place on the 14th March.
The UK energy market last week:
Last week saw power prices in the UK edging higher amid poor renewables generation and firmer coal and carbon markets.
Demand for today is forecast to remain very close to seasonal normal levels.
The Pound is currently trading close to 1.165 per Euro levels amid optimism around Brexit and despite a 11-month drop on the UK construction PMI.
UK Natural Gas prices: 
The UK natural gas market moved higher on a weekly basis following the revised weather forecasts that predicted lower temperatures for early March compared to previous forecasts. On top of that, poor wind supply weighed on prices even further.
Day-ahead closed at 43.80p/th and month-ahead at 43.10p/th, a decrease of 0.2% and 2.3% respectively, week on week.
In terms of curve contracts, Sum-19 settled at 44.22p/th on Friday, that is 0.7% higher week on week while Win-19 settled at 58.00p/th, that is 1% higher during the same period.
UK Electricity Prices:
UK power prices mirrored the gas price movement amid relatively poor wind generation levels during last week. UK power prices increased by more than 2% on average in the previous week.
Day-ahead closed the week at £48.75/MWh and month-ahead at £47.90/MWh, that is 3.2% and 1.2% up week on week for both contracts respectively.
Sum-19 contract increased by 2.4 % week on week and settled at £48.53/MWh on Friday while Win-19 closed the week 2.1% higher, at £58.54/MWh.
Macroeconomics:
The UK's construction PMI has fallen for first time in 11 months, as published by Markit Economics. The PMI for February stands at 49.5 points and below the 50.6 in January. The interpretation of the result suggests a slowdown in commercial building and civil engineering activity. However, the news did not seem to have a significant impact on the currency pair £/€. As of Monday afternoon, the Pound is trading around 1.165 per Euro.
What to watch this week
Strong wind generation eased off natural gas prices on Monday. UK power market mirrored the gas price movement despite the overall strengthening in the energy commodity complex.
ECB's press conference is scheduled for Thursday 7 March, at 01.30pm UK time.
US non-farm payrolls for February will be published on Friday 8 March, at 01.30pm UK time.
To find out more contact us to see how we can help your business reduce energy consumption.