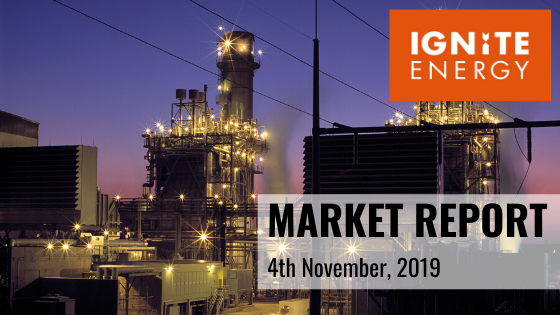 WEEKLY ENERGY MARKET REPORT: 4th NOVEMBER 2019
November 4, 2019
Ignite bring you the latest energy news across the UK and Europe. We track and analyse changes in the energy market to keep you informed and up to date. Here's the latest news from the UK, Europe and the rest of the world.
The British wholesale power market softened during the past week, by around 1% on the forward curve. Renewables generation is currently contributing 21% of the UK's generation mix and as we approach milder weather, we can see a steady increase of coal generation which is now at 5%, the same level we saw at the same time last year.
On the gas front, The UK opened undersupplied causing slight firmness on front-month gas prices. LNG flows have picked up with flows from Langeled going in the other direction. Dragon terminal is flowing at 25mcm, the highest it has been since April. It is believed we can expect a further 10 deliveries arriving in the UK and demand from Europe is expected to remain weak due to heavy LNG supply.
In the wider energy commodity complex, Brent Crude rose by 3.7% last week after some positive news regarding the potential deal between the US and China.
The UK energy market last week
British wholesale power prices increased by 0.2% on the curve contracts with the day ahead dropping by 2.9%.
The natural gas market increased 13.9% on the prompt and decreased by 0.4% on the forward curve on average. This is due to an increase in flows from Forties and Langeled.
The pound dropped and rose again throughout last week but remains flat compared to the same time last week at €1.1583. a decrease of 0.03%. This is largely due to a further delay to the date the UK is set to leave the European Union.
UK Natural Gas prices
Gas prices dropped slightly on the curve as flows from Langeled increased throughout last week. Flows dropped on Friday when Equinor tried to flex the Troll production but the level of supply through Langeled remains relatively strong up to this morning. With MRS injections nominated at 8mcm/d this morning, and assuming adequate flows through Langeled, we might see storage withdrawals.
Gas-for-power-demand acted as a bullish catalyst for day-ahead and prompt prices, after an increase of 20%. Day-ahead prices remained bullish during the last week mainly due to higher LDZ imports and high levels of flow from Langeled throughout last week. Seasonal contracts remained bearish due to an unexpected outage at the forty's pipeline along with higher temperatures than seasonal normal levels.
Day-ahead closed the week at 31.00p/th, that is 13.9% higher, week-on-week, while month-ahead increased by 6.6% within-week and settled at 42.65 p/th.
In terms of curve contracts, Sum-20 decreased by 1.9% before settling at 39.80 p/th whereas Win-20 also dropped by 0.8% at 49.85p/th.
UK Electricity Prices
In the power market, we see the front-month still trading at a wide premium against the day-ahead market, that is trading around £34.25/MWh. The month-ahead contract is trading at £48.96/MWh a rise of 6.7% since last week. Since Month-ahead is currently trading 27.12% lower compared to a year ago, this is due to forecasted higher temperatures along with rising levels of LNG storage.
Day-ahead decreased by 2.9% and closed at £34.25/MWh while month ahead increased by 7.2% and finished £48.96/MWh.
Sum-20 settled at £45.80/MWh and Win-20 at £53.20/MWh, an upwards move for both contracts by 0.2% and 0.5%
Macroeconomics
On the macroeconomic front, the UK general election is due to take place on the 12th of December with clashes already taking place between Boris Johnson and Jeremy Corbyn over the NHS and other key topics. The outcome of the election will have a dramatic impact on the UK's Brexit strategy and future relationship with Europe.
The Pound is currently trading at €1.1583. Throughout last week this fell to €1.1567 and rose to €1.1602 but has open flat compared to last week. This is due to the ease on the Pound as Brexit has been delayed once again.
What to watch this week
Outlook: We should expect the UK market to be well supplied this week as we see an increase in flows form Norway. Temperatures are most likely to remain below seasonal average temperatures thus pulling gas demand above average for this time of the year. We are expecting 6 LNG tankers to arrive in the UK by Sunday, while at the same time LNG storage levels are at full capacity and as a result, they will have to release some excess capacity.
Tuesday 5th November: The USA trade balance for September will be published. The US trade deficit widened by almost $1 billion between July and August and reached $54.9 billion. Consensus data suggest that the deficit will narrow down to $52.5 billion.
Thursday 7th November: The United Kingdom interest rate discussion is due to take place. The Bank of England policy committee voted unanimously to hold the Bank Rate at 0.75% during September's policy meeting. Brexit related developments are making the UK's economic data more volatile.
Contact us to see how we can help your business reduce energy consumption.