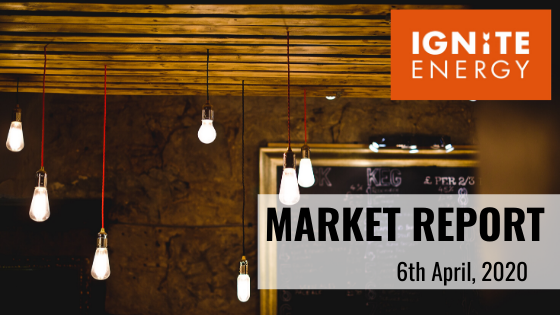 WEEKLY ENERGY MARKET REPORT: 6th April 2020
April 6, 2020
Ignite bring you the latest energy news across the UK and Europe. We track and analyse changes in the energy market to keep you informed and up to date. Here's the latest news from the UK, Europe and the rest of the world.
Wholesale power and natural gas prices in the UK settled firmer on a weekly basis despite the persistence of the bearish trend.
Far-curve power contracts rose by more than 3% within-week while the upside in prompt and near-curve contracts was more moderate. There was a similar picture in the natural gas market with month-ahead contracts losing as much as 5%, while Win-21 increased by 3%, at 39.20p/th.
The reason for the upside in the far-curve is attributed to the rally in oil and carbon prices that took place on Thursday afternoon.  Particularly, oil prices spiked during Thursday's session by 20% and currently priced at $33.00/bbl amid hopes that Saudi Arabia and Russia might potentially agree into cutting oil output by 10 to 15 million barrels per day. An urgent meeting had been arranged between the two major oil exporters however, based on the latest reports, the meeting will be delayed. The oil market has been very volatile over the last couple of months and any news concerning the Russia-Saudi Arabia meeting will most likely affect pricing.
In the macroeconomic front, global stocks and major stock indices rally this morning as the most recent data on the Coronavirus pandemic suggests that daily death toll has started plateauing in Italy, Spain and France and as a result the "curve" might have begun flattening for these countries.
The UK energy market last week:
UK natural gas prices gained more than 3.3% in the last week as a result of the rally in oil pricing. Nonetheless, fundamentals remain unchanged with stable supply flows and mild weather conditions in Northwest Europe for the for the period ahead.
UK wholesale power prices mirrored the natural gas price movement with extended losses in the front-seasonal contracts but firmer on the back end of the curve.
The wholesale energy markets in the UK opened slightly firmer this morning on the back of a tighter gas system while flows from Norway are curtailed by 14mcm.
UK Natural Gas prices:  
British wholesale natural gas prices experienced a lower movement up to Wednesday however, they moved higher from Thursday onwards mainly on the back of the wider commodity complex. On top of that, a few outages that impacted Norwegian flows added a factor of bullishness. Furthermore, the number of LNG scheduled arrivals for April is set significantly lower from the previous months. Currently, April's vessel count is 10.
Month ahead settled on Friday at 16.02p/th on Friday, a fall of 4.9%, week on week.
In terms of curve contracts, Win-20 settled at 32.71p/th, that is a 4.7% higher, week on week, while Sum-21 increased by 2.3% during the same period, at 28.90p/th.
UK Electricity Prices:
UK power prices mirrored the gas price movement while also influenced by the rally in the oil market and the aggressive upside of carbon that is now priced almost 5% up from Friday's close, at €18.85/t.
Month-ahead closed on Friday at £24.75/MWh, that is 0.4% down, week on week.
Win-20 contract rose by 3.1% week on week and settled at £39.22/MWh on Friday while Sum-21 close 4% higher, at £35.22/MWh.
Macroeconomics:
Unemployment benefits claims jumped to an all-time high in the USA with 3.3 million claims by 21st March. A week later, the claims have doubled to 6.6 million as a result of the impact the pandemic has had so far on the USA economy.
US Non-Farm payrolls for March clearly illustrate the previous data. Approximately 701,000 people lost their jobs in the USA only in March, much greater than the 100,000 thousand of market expectations.
The UK's gross domestic product closed flat for Q4 2019. This is the first time in the last 5 years that household consumption did not increase, on a quarterly basis.
What to watch this week
Outlook: Renewables generation started the week strong while the weather outlook is set for milder weather than seasonal normal temperatures this week. LNG flows have dropped from levels seen in the last months, but they remain stable with 5 tankers expected to dock by Sunday.
Thursday April 09: UK'S Balance of Trade for February will be published. January's balance was at a £4.2B, while forecasts suggest a drop to £2.2B for February
Thursday April 09: OPEC+ Meeting is scheduled as markets anticipate a significant production cut as a response mechanism to the fall in global demand.
Contact us to see how we can help your business reduce energy consumption.