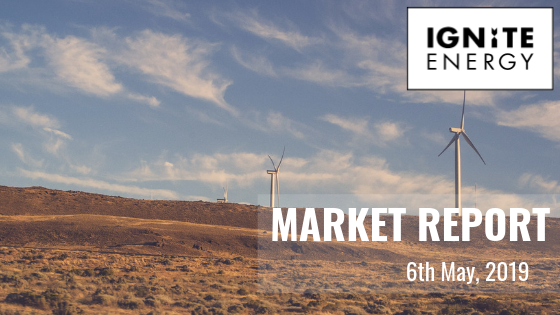 WEEKLY ENERGY MARKET REPORT: 6th MAY 2019
May 8, 2019
Ignite bring you the latest energy news across the UK and Europe. We track and analyse changes in the energy market to keep you informed and up to date. Here's the latest news from the UK, Europe and the rest of the world.
UK natural gas and power prices retreated even further during the last week due to sufficient flows in the gas system through the Langeled pipeline and strong LNG nominations. Wind generation started the week low but picked up as we progressed towards the weekend while carbon prices fell to €24.70/t and added pressure on prices.
Brent crude dropped by 3% within-week, that is more than $2.00/bbl before settling at a month low last night at $69.88/bbl due to recent doubts on the China-USA trade deal and growing expectations that the USA Crude stockpiles might reach fresh highs in May.
The Pound dropped last night and is currently trading at €1.165 as there are no clear signs of a breakthrough on Brexit.
The UK energy market last week
Power prices in the UK fell by 2.9% on average during the previous week as healthy supply flows outweighed strong demand levels.
The oil benchmark, Brent Crude dropped to a one-month low at $69.88/bbl amid rising concerns over global economic growth.
Prices opened mixed this morning as demand remains above seasonal normal levels while the system is well-supplied.
UK Natural Gas prices
British wholesale natural gas prices decreased during the previous week as flows through Easington picked up, whereas no major outages were reported. On top of that, more than four cargoes arrived in the UK with more expected in the next week.
Day-ahead closed at 32.50p/th, 2.10% lower from last week whereas month-ahead dropped at 31.90p/th, 6.00% lower from last week.
In terms of curve contracts, Win-19 settled at 55.25p/th, that is a 2.50% on the downside, week on week, while Sum-20 fell by 2.90% during the same period and settled at 45.50p/th.
UK Electricity prices
Power prices mirrored the gas price movement as lower renewables at the start of the week increased as we moved towards the weekend, while carbon prices fell thus pulling curve contracts downwards.
Day-ahead closed yesterday 1.20% lower on a weekly basis, at £41.80/MWh whereas month-ahead closed the week 0.90% lower, at £42.25/MWh.
Win-19 contract dropped by 3.20%, within-week, before settling at £57.58/MWh while Sum-20 changed by 3.70% in the same direction during the same period, at a price of £48.60/MWh.
Macroeconomics
Chinese exports dropped unexpectedly by 2.70% YoY in April 2019. Market expectations were set at 2.30% growth but weak demand along with the new USA tariffs on China (that will soon be in effect) have resulted in the decrease in exports.
What to watch this week
Outlook: Temperatures are likely to slip in the coming days based on the most recent forecasts, thus demand is expected to remain above seasonal normal levels this week.  However, healthy supply levels could counterbalance the system as this is case this morning with prices opening mixed.
Thursday May 09: The USA Balance of trade for March will be published. The previous balance illustrated a deficit of $49.40b the lowest in the last seven months.
Friday May 10: The Balance of trade for March will be announced for the UK and Germany and based on the results we might se some movement in the FX.
To find out more contact us to see how we can help your business reduce energy consumption.