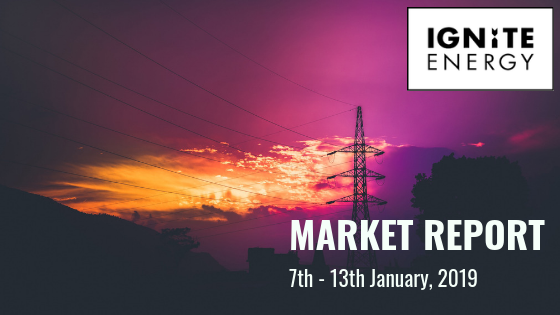 WEEKLY ENERGY MARKET REPORT: 7TH – 13TH JANUARY 2019
January 7, 2019
Ignite bring you the latest energy news across the UK and Europe. We have the expertise when it comes to translating energy industry consumption trends. Here's the latest news from the UK, Europe and the rest of the world.
UK gas and electricity prices raised about 2% week on week in the first week of January. The mild weather and relatively low gas demand eased off the pressure on the commodities during the festive period. However cooler weather conditions and tight oil market supply/demand conditions meant UK commodities started rising last week. Crude oil prices started returning to a more bullish momentum amid a slowdown in shale production in the US and tightening oil exports to the US by OPEC. The Pound continues to trade around 1.11 against the Euro.
The UK energy market last week
UK gas and power prices started moving upwards within the last week.
Healthy wind generation delivered about 20% of electricity.
Mild temperatures continued spreading in the first week of January and are expected to continue this way for another two weeks. Subsequently, the mild and wet conditions may change to dry and cool in late January.
The Pound was still trading sideways and close to 1.10 per euro due to uncertainty around the Brexit withdrawal agreement.
UK Natural Gas prices 
UK natural gas prices raised last week despite gas demand falling below seasonal norms. The system was oversupplied by more than 20 mcm, however, prices moved up. At the same time, windy days contributed to healthy renewable generation, taking off the pressure of aging gas infrastructure. Day-ahead and month ahead raised by 3% and 4.4% respectively, despite healthy daily gas supply.
The price movement in curve contracts was more moderate during this period. Font-curve, Sum-19 raised by more than 2.2% and Win-19 increased by 1.9% during the same two-week period, thus closing at 54.54p/th and 62.83p/th respectively.
UK Electricity prices
UK power prices moved up, following the gas price movement. Meanwhile, coal and carbon prices soften.
Day-ahead raised by 5.7%, whereas month ahead went up by 1.3%. Both contracts ended last week at £67.30/MWh and £64.05/MWh respectively. Sum-19 moved up by 0.4% and finished at £56.44/MWh, while Win-19 was at £62.35/MWh.
Macroeconomics
The US and China started first talks in Beijing aimed at resolving their trade dispute. The trade war between the two biggest economies in the world resulted in massive economic turbulence across the world. Both countries are looking to achieve an agreement and refrain from further tariffs for another 90 days.
The Eurozone's retail trade increased 0.6 percent from a month earlier in November 2018.
Non-Farm payrolls in the US increased by 312,000 in December 2018, following an upwardly revised 176,000 rise in November and easily beating below market expectations of 177,000. Job gains occurred in health care, food services and drinking places, construction, manufacturing, and retail. The December jobs gain pushed total US employment above 150 million jobs for the first time. Non-Farm Payrolls in the United States averaged 125,480 from 1939 until 2018, reaching an all-time high of 1,115,000 in September of 1983 and a record low of -1,967,000 in September of 1945.
What to watch this week
Gas and electricity prices are expected to gradually rise to reflect a rise in gas and electricity demand in the next few weeks.
Oil prices are expected to move up amid the resolution of the US-China trade war and tightening oil inventories worldwide.
Consumer Confidence Index and PMI (Purchasing Manager Index) are due to be published for the European Union this week.
To find out more contact us to see how we can help your business reduce energy consumption.