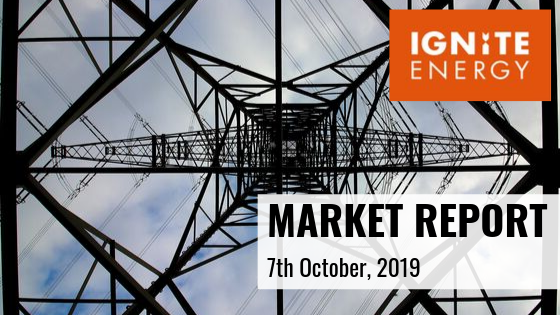 WEEKLY ENERGY MARKET REPORT: 7th OCTOBER 2019
October 7, 2019
Ignite bring you the latest energy news across the UK and Europe. We track and analyse changes in the energy market to keep you informed and up to date. Here's the latest news from the UK, Europe and the rest of the world.
The British wholesale power market fell on the curve contracts due to healthy renewables generation and a softening in the underlying commodities. Carbon prices dropped by more than 9% on EU spot carbon permits during last week and are currently priced below €23/t. As analysts at Refinitiv suggest, the concern over a No Deal Brexit has led analysts to lower their carbon price forecasts for Q4 2020.
The wholesale natural gas market followed a similar price direction to electricity amid milder weather and lower than seasonal normal demand levels during most days.
The UK energy market last week:
British wholesale power prices fell by 3% on average, during the last week, as they were influenced by a softening in underlying fuels and strong wind generation.
The natural gas market followed suit, with curve contracts dropping by 2.8% on average as demand levels remained well below seasonal moral levels.
As of this morning, we see the milder weather outlook and the lower forecast demand weighing on prices.
UK Natural Gas prices:  
Day-ahead closed the week at 27.75p/th, 27.3% higher, week-on-week, while month-ahead increased by 46.7% within-week and settled at 41.95p/th.
In terms of curve contracts, Sum-20 dropped by 3.8% before settling at 43.14p/th whereas Win-20 decreased by 2.4% at 52.63p/th.
UK Electricity Prices:
Day-ahead increased by 2.8% and closed at £37.00/MWh while the month ahead fell by 2.9% and settled at £48.85/MWh.
Sum-20 settled at £46.50/MWh and Win-20 at £53.57/MWh, 3.9% and 3.1% lower within-week, respectively.
Macroeconomics:
On the macroeconomic front, we had the release of the UK's GDP Growth Rate YoY for Q2 2019, which came up to 1.3% expansion. That is above primary estimates that suggested a 1.2% increase in the gross domestic product.
The US Nonfarm payrolls for September were published on Friday. The job gain in the USA for September was 136,000, lower than the 145,000 of market expectations and an overall drop of 32,000 from August.
The Pound is currently changing hands between €1.119 and €1.123. The remainder of October is expected to be very important for the currency pair.
What to watch this week
Outlook: This week's outlook looks bearish as has been the case for the last few weeks. The most important drivers are the increase in Norwegian flows as production at the Troll field ramps up. In addition, the weather outlook for the week looks mild compared to seasonal normal temperatures hence we would expect this to curb demand levels.
Thursday 10 October: USA's YoY inflation rate for September will be released. The inflation rate for August was 1.7% due to increases in the cost of food.
Thursday 10 October:  The UK's Balance of Trade for August will be released.  July's deficit was GBP 0.22 billion as imports outpaced exports by a margin of 0.2%.
Friday 11 October:  Germany's YoY inflation rate for September will be published. The latest preliminary estimates show a 1.2% inflation rate, 0.2% below August's levels. The lower inflation expectations are attributed to a decrease in energy prices.
Contact us to see how we can help your business reduce energy consumption.