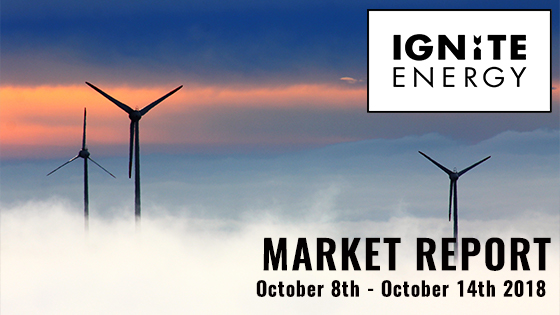 WEEKLY ENERGY MARKET REPORT: 8TH – 14TH OCTOBER 2018
October 8, 2018
Ignite bring you the latest energy news across the UK and Europe. We have the expertise when it comes to translating energy industry consumption trends. Here's the latest news from the UK, Europe and the rest of the world.
The beginning of Winter 2018 has pushed Nat gas prices in the UK higher. Month-ahead gas contracts moved as much as 3p/th from high to low. Gas volatility was quickly filtered into power prices, so the electricity curve was oscillating within the £2/MWh range.
The UK energy market Last Week
Strong wind generation delivered 10GW of load and electricity prices for the short term retraced at the end of last week
Bullish moves on the coal market contributed to the high level of European coal prices, reaching almost $100/t
Oil prices hit their highest levels of the year last week, despite healthy oil inventories in the US.
A major sell-off in bonds has steepened the yield-curve and led to the highest yields on the 110-year and 30-year treasuries since May 2011.
 UK Electricity Prices
UK day-ahead prices are following a decreasing trend, in line with a healthy renewable generation. Monday morning brought bearish momentum with day ahead trading 2.61% lower than a week ago and consolidating at £67/MWh, while month ahead was at £71.55/MWh, 1.47% down week on week.
The front season, Sum-19, has settled at £62.50/MWh, while the long-term UK electricity contract Win-19 closed at £67.70/MWh, lower by 3.2 %. Sum-20 closed at £55.65/MWh, up by 5.2%. Win-19 and Sum-20 are currently about £18.75/MWh and £15.51/MWh respectively trading higher than the same time last year. The strengthening of long-term contracts compared to last year was driven by the rising cost of coal, gas, carbon prices and oil.
UK Natural Gas Prices 
British wholesale gas prices are falling on month on month. The gas demand system is at the moment oversupplied by a strong supply from Norway that increased at the end of last week. An expectation of cooler weather impacted on the supply forecast this week.
Day-ahead settled at 71.55p/th, down by 1.79% week on week, while month ahead was slightly up week on week by 3.63% and closed at 75.45p/th. The average daily temperatures in Britain have been lower than expected and have lowered the demand for gas. Win-19 was at 67.70p/th, down by 4.99%.
While short-term contracts – the day ahead and month ahead, are heading downwards, the far curve has strengthened.
Macroeconomics
The U.S unemployment rate hit 3.7%, the lowest rate since December 1969. The US economy gained 134,000 jobs in September and average hourly earnings rose at an annual rate of 2.8%
What to watch this week:
Weather: We would expect a couple of cooler days, hence the demand for gas and electricity is expected to rise. Higher winds will contribute to higher wind generation output.
On Thursday, we will be carefully watching the European Monetary Policy Meeting to learn about any new indications from the European Central Bank.
To find out more contact us to see how we can help your business reduce energy consumption.