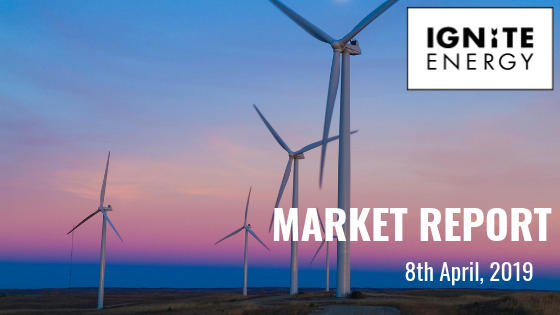 WEEKLY ENERGY MARKET REPORT: 8th APRIL 2019
April 8, 2019
Ignite bring you the latest energy news across the UK and Europe. We track and analyse changes in the energy market to keep you informed and up to date. Here's the latest news from the UK, Europe and the rest of the world.
UK natural gas prices started trading in the downside during the first week of April, however, they reversed from Wednesday onwards due to increasing levels of demand. On Friday, markets experienced an unexpected rally due to outages that reduced Norwegian import flows through the Langeled underwater pipeline. The within-week rise in natural gas prices was more than 14%. Power prices followed suit as natural gas gave direction to electricity contracts.
In terms of the wider energy commodity complex, oil prices reached a five-month high with Brent Crude settling at $70.34/bbl on Friday. The spike is attributed to the ongoing OPEC-led supply cuts and the US sanctions on Venezuelan oil production.
In addition, recent news suggests that Libya, which is an OPEC member, is at the brink of a civil war, something that might result in significant disruptions in oil exports in the near future.
The UK energy market last week
UK natural gas prices surged by more than 14% on average, within-week, as unexpected outages caused major disruptions to UK imports from Norway last Friday.
Oil prices reached a new high on Friday, at $70.34/bbl, amid escalations in Libya that might lead to oil supply reductions along with the continuing supply cuts by OPEC.
Prices softened on Monday morning as Langeled flows returned to normal levels, around 65mcm.
UK Natural Gas prices
British wholesale natural gas prices rallied on Friday. The outage at Troll field appears to have caused a huge disruption.
Day-ahead closed at 40.20p/th and month-ahead at 41.50p/th, an increase of 19.6% and 24.8% for respectively, week on week.
In terms of curve contracts, Win-19 settled at 57.54p/th on Friday, that is a 13.9% movement on the upside, week on week, while Sum-20 increased by 13.00% during the same period, at 48.06p/th.
UK Electricity prices
UK power prices followed the gas movement despite healthy renewables generation from Wednesday onwards. On top of that, carbon prices increased significantly, more than 12% week on week, and settled at €24.60/t on Friday thus supporting power contracts.
Day-ahead closed on Friday 6.00% lower from the previous week, at £39.75/MWh whereas month-ahead settled 15.6% higher, week-on-week, at £46.80/MWh.
Win-19 contract increased by 11.00%, within-week, and settled at £59.48/MWh on Friday. Sum-20 increased by 10.80% and settled at £50.68/MWh on Friday.
Macroeconomics
Non-farm payrolls increased by 196k in March, thus moving higher from market expectations of 180k. The job gain rate in February came up to 33k.
What to watch this week
Outlook: Wind generation is expected to start low on Monday and continue further down on Tuesday. There is a variation between long-term and short-term weather forecasts regarding the duration of the upcoming cooler temperatures. If cold weather persists until the end of the week, this might result in firmer prices.
Wednesday, April 10: The President of the European Council, Donald Tusk, has called a meeting with the EU leaders in order to decide upon Theresa May's request for a further extension on the Brexit deadline.
Wednesday, April 10: Data on the actual US annual inflation rate for March will be published at 01.30pm, UK time.
To find out more contact us to see how we can help your business reduce energy consumption.