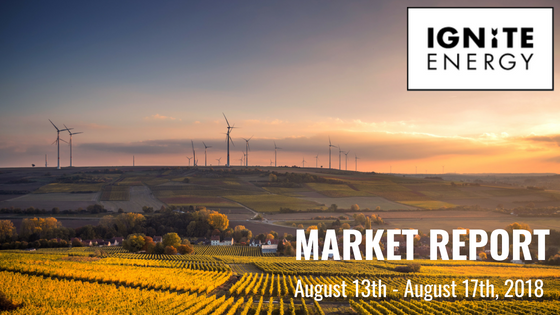 Weekly Energy Market Report: 13th – 17th August 2018
August 13, 2018
Ignite bring you the latest energy news across the UK and Europe. We have the expertise when it comes to translating energy industry consumption trends. Here's the latest news from the UK, Europe and the rest of the world.
UK electricity and gas prices were trading higher despite relatively comfortable fundamentals across both the gas and power markets. Relatively low wind generation resulted in higher demand for gas-fired generation to meet air conditioning load. In addition, UK gas markets have been taking a lot of direction from Asian Markets. Rising demand for LNG in China pushed prices of this global commodity even higher. As most European gas prices are traded at hubs and are linked to global commodities such as LNG, UK gas prices were adjusted accordingly.
The UK Energy Market Last Week
UK natural seasonal gas prices were trading higher last week amid rising demand for gas and higher prices of LNG.
UK power prices mirrored the movements on the gas curve and were also supported by rising coal and carbon emission prices.
Oil prices dropped off in the middle of the last week, after China decided not to extend import tariffs on crude oil from the U.S
The Pound weakened last week and continues at the level of £1.27 to the Dollar.
For more in-depth analysis on the UK energy market visit https://www.igniteenergy.co.uk/updates/.
UK Electricity Prices
Long term UK electricity contracts strengthened week on week. Win-19 was trading higher by 1.5% and settled at £59.01/MWh on Friday, Sum-20 closed at £49.20/MWh, up by 2%. Win-19 and Sum-20 are currently about £13.58/MWh and £11.30/MWh respectively, trading higher than the same time last year. The strengthening of long-term contracts was driven by rising gas contract counterparts as well as coal prices. The front curve contracts such as Win-18 and Sum-19 were trading in the narrow range bound of £0.15-0.25/MWh. Win-18 settled at £63.87/MWh and Sum-19 was at £53.21/MWh on Friday. Overall, the bullish sentiment continues spreading across seasonal contracts. Week on week prices are rising with the biggest gains at the far curve.
Month ahead settled at £60.10 /MWh, while day ahead went down by 1.5% and consolidated around £57.75/MWh. Renewable generation provides enough output for the next day delivery, despite weakening generation from wind.
UK Natural Gas Prices
Day ahead gas contract prices changed marginally week on week. Day ahead settled at 58.70p/th (down by 0.7% wow) on Friday, and month ahead was up by 1.3% and closed at 60.55p/th. The front winter contract (Win-18) finished at 66.04p/th, up by 2.3% week on week, while Win-19 was at 61.05p/th, up by 1.7%. Seasonal contracts were trading less nervously than a week before, because Brent Crude prices were trading lower. Brent Crude prices were trading lower after China vowed to retaliate against the US latest tariffs with levies being imposed on a raft of imports from the 23rd August.
Macroeconomics
The Pound saw higher volatility, as Brexit no deal worries are impacting the pounds value against other currencies. The British currency is currently trading about £1.27 against the dollar, which is 14.3% below where it was before the EU referendum. UK GDP growth was published last week at 0.4% compared to the previous reading of 0.2%. The overall macroeconomic situation in the UK seems to be quite steady despite many unfavourable forecasts.
What To Watch This Week
With cloudy skies and an increase in wind, we would expect higher renewable output next week, resulting in falling prices at the front curve.
Gas demand should ease off, as the temperatures are expected to fall, meaning gas prices should fall as well.
To find out more contact us to see how we can help your business reduce energy consumption.