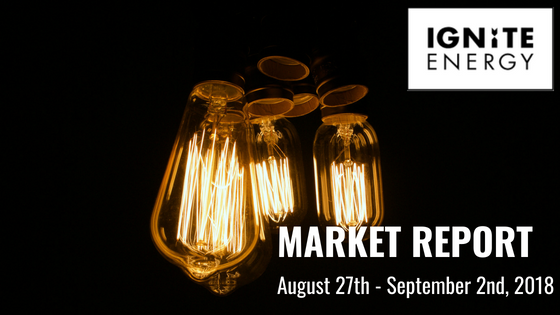 Weekly Energy Market Report: 27th August – 2nd September 2018
August 29, 2018
Ignite bring you the latest energy news across the UK and Europe. We have the expertise when it comes to translating energy industry consumption trends. Here's the latest news from the UK, Europe and the rest of the world.
Winter-18 electricity contracts surged to £70/MWh on Tuesday, reaching their highest level over the last 11 years. Soaring UK power prices were driven by rising costs of gas, coal and oil prices. Fear of limited nuclear capacity in France edged on French electricity prices. UK gas was subsidised against our European neighbours. In return, the UK power prices took direction from continental Europe and continued rising.
UK nat gas prices edged up higher as Brent Crude rallied over the last week. Although Chinese refineries were demanding more oil, the oil production curb imposed by Russia and OPEC was still in place. In addition to this, US stocks of oil are running low. Global reservoirs of oil are tightening, having an impact on the UK energy market. As a result, Win-18 is currently trading over 73.65p/th, reaching the highest prices in the last 12 years.
The UK energy market last week
UK natural seasonal gas prices continue soaring amid fears of tightening global oil supplies, rising demand gas for power in the French market and the impact of other commodities such as coal.
UK power prices mirrored the movements on the gas curve. The front season Win-18 reached as high as £70/MWh. The UK Power market continues rallying, despite healthy wind generation.
Oil prices continue rising. Brent Crude prices recovered from $72/bbl to $76/bbl. Tension between the US and the middle east becoming more visible. In addition, OPEC and Russia still control the global supply/demand balance.
The Pound dropped as low as 1.11 against the Euro and continued to fall. Uncertainty around Brexit negotiations has impaired the British currency.
For more in-depth analysis of the UK energy market visit https://www.igniteenergy.co.uk/updates/.
 UK Electricity Prices
The long-term UK electricity contract Win-19 was trading higher by 4.1% and settled at £62.25/MWh on Friday, Sum-20 closed at £52.48/MWh, up by 5.3%. Win-19 and Sum-20 are currently about £16.87/MWh and £13.99/MWh respectively, trading higher than the same time last year. The strengthening of long-term contracts was driven by the rising cost of coal and gas prices. It is clearly visible that aging electricity infrastructure across Europe caused significant problems. Fears over French nuclear availability sent French power prices through the roof, having a knock-on effect on the UK prices. The front curve contracts such as Win-18 and Sum-19 contracts were also trading up. Win-18 settled at £70.54/MWh and Sum-19 was at £58.35/MWh on Friday. Win-18 and Sum-19 are currently about £22.28/MWh and £16.96/MWh respectively trading higher than the same time last year.
Month ahead settled at £65.60/MWh, while day ahead consolidated around £62.70/MWh. Wind generation reached as high as 8 GW, hence the day ahead prices were trading lower week on week.
UK Natural Gas prices
The day ahead gas contract prices surged significantly week on week. Day ahead settled at 67.00p/th (up by 5.3% week on week) on Friday, while month ahead was up by 4.5% and closed at 66.70p/th. The front winter contract (Win-18) finished at 72.15p/th, up by 3.5% week on week, while Win-19 was at 64.15p/th, up by 3.1%. Month ahead and the front winter prices gained about 4% week on week, whist further dated contracts such as Win-19 and Sum-20 moved up by 2.8%.
Macroeconomics
The Confederation of British Industry's (CBI) monthly retail sales gauge rose to +29 in August from +20 in June. This means that the major British retailers expect a surge in sales in August.
What To Watch This Week
Both gas and electricity prices are set to remain strong and continue soaring. The gas maintenance period will contribute to tightening the UK gas supply market.
With some uncertainty surrounding French nuclear availability, it is likely that any further increase in French power prices will also send UK prices higher.
European Union unemployment rates are going to be published this week Friday.
Contact us today to learn how we use our expertise to help businesses save millions of pounds on their energy.