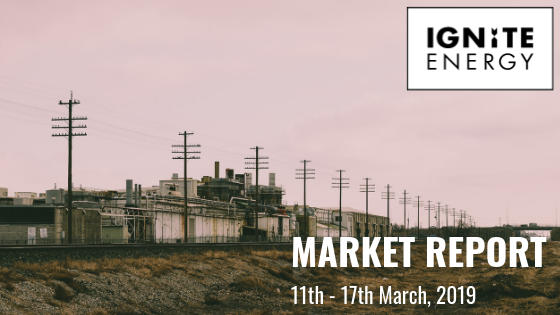 WEEKLY ENERGY MARKET REPORT: 11TH – 17TH MARCH 2019
March 12, 2019
Ignite bring you the latest energy news across the UK and Europe. We have the expertise when it comes to translating energy industry consumption trends. Here's the latest news from the UK, Europe and the rest of the world.
Last week saw power prices in the UK and the Continent moving on the downside as a result of the mild weather conditions. UK power contracts declined by 1.2% week to week, while natural gas prices dipped by 2.5% on average for the same time period.
The overall energy commodity complex traded close to last week's levels with Brent Crude oil trading sideways during most days. EU carbon allowances traded range bound, at around €23.00/t however, as Brexit remains a main driver for the carbon market, the outcome of the meaningful vote on Tuesday is expected to have an impact on carbon prices.
Data from the US Non-Farm Payrolls revealed that jobs in February 2019 increased by only 20 thousand, the lowest job increase in two years. The result was below market expectations of 180 thousand.
The Pound traded around 1.17 per Euro since Theresa May announced that a vote on extending article 50 might take place this week if the Brexit Plan does not pass on Tuesday. However, there was little if no progress at all on the Brexit talks between the UK and the EU during the weekend.
The Pound is currently trading at 1.15 per Euro.
The UK energy market last week
During the previous week, the UK power prices dropped by 1.2% on average due to mild weather conditions, healthy renewables generation and strong LNG flows.
Wind generation averaged 10GW during last week while demand levels remained close to seasonal normal.
US Non-Farm Payroll data illustrated a 20 thousand job increase for February. The uplift was far below market expectations of 180 thousand jobs.
As of Monday morning, wind supply remains strong at 10GW, thus weighing on UK natural gas prices.
UK Natural Gas prices
UK natural gas market dipped during last week amid increased LNG flows, mild weather conditions and reasonable levels of demand for the season.
Day-ahead closed at 42.75p/th and month-ahead at 41.90p/th, a decrease of 2.6% and 3.6% respectively, week on week.
In terms of curve contracts, Sum-19 settled at 42.82p/th on Friday, that is a 3.3% movement on the downside, week on week, while Win-19 dropped by 2.9% during the same period, at 56.34p/th.
UK Electricity prices
UK power prices mirrored the gas price movement amid strong fundamentals. Strong wind generation, increasing supply flows and mild and wet weather were the main drivers for the drop in power prices last week.
Day-ahead closed the week at £48.45/MWh and month-ahead at £47.50/MWh, that is 1.8% and 1.1% down week on week for both contracts respectively.
Sum-19 contract declined by 1.3 % week on week and settled at £48.15/MWh on Friday while Win-19 closed the week 1.6% lower, at £57.96/MWh.
Macroeconomics
Developments in Brexit talks indicate that Theresa May is heading for a defeat on Parliament tomorrow. According to the Financial Times, the talks between the UK and the EU officials did not progress as the EU Commission's President did not provide the assurances that the UK's PM was hoping for. The uncertainty around Brexit caused a drop in the Pound's value against the common currency.
Germany's trade surplus for January 2019 was announced today. There is an annual decrease from €17.2b to €14.5b as imports outpaced exports.
What to watch this week
Tuesday March 12: The UK Balance of Trade for January will be published at 09.30am UK time. The Trade Balance for last December illustrated a deficit of £0.32b.
Tuesday March 12: The UK Parliament votes on the Brexit Deal.
Wednesday March 13: The Spring Budget of 2019 will be published.
Thursday March 14: The YoY inflation Rate in Germany will be available at 7.00pm UK time. Last month's data revealed an inflation rate of 1.4%, that was an 11-month low.
To find out more contact us to see how we can help your business reduce energy consumption.