"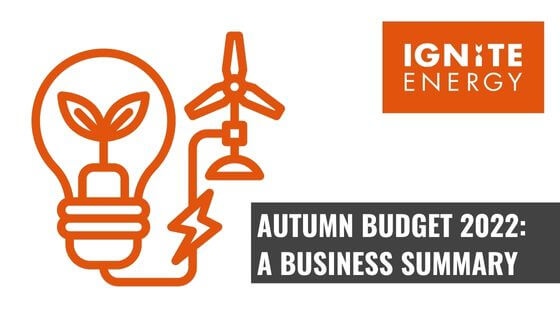 Autumn budget 2022: A business summary
November 23, 2022
Jeremy Hunt's Autumn budget was announced on November 17th 2022, following on from September's mini budget and the Energy Bill Relief Scheme. For his statement, Hunt focussed on 'stability, growth and public spending', laying out his plans to tackle the rising cost of living and fill the £55 billion black hole.
In this guide we summarise the government budget 2022 in terms of the energy industry.
What was announced in the budget 2022?
In the UK government budget, Hunt set out his goals to mitigate the high cost of living and included several energy-related updates in his announcement. While there was little mention of business energy bills specifically, the Chancellor did mention that a 'new targeted approach' of business support will be announced for April.
Increase in windfall tax
Oil and gas companies will see an increase in windfall tax, now paying 35% on profits, up from the 25% they were originally paying. Electricity generators will pay 45% tax, and renewable energy companies will also see a temporary 40% tax on profits. All of these increases will start between 1st January 2022 – March 2028.
This new tax on renewable energy generation has been met with some criticism, as there's now fear that this may hinder green energy investment. As well as this, the fact that the renewables industry has a higher tax, despite being an industry in which more development is needed, will make it harder to progress in this area. Fossil fuel plants are still exempt as part of the Energy Profits Levy.
Electric cars will now pay Vehicle Excise Duty
Electric vehicles will no longer be exempt from the Vehicle Excise Duty (VED), starting from April 2025. This comes from the government's aim to make motoring 'fairer' and Hunt's prediction that half of all new cars will be electric by this time.
Decrease in business rates
Another measure from the budget statement 2022 is a decrease in business rates, in which businesses will receive a £14bn tax cut. This is also paired with the government's new goal of reducing energy consumption by 15% by 2030. Investing in the energy efficiency of buildings and industries will also help reduce business bills – savings of £28bn, or a £480 reduction on the average household energy bill.
While we have no specific figures detailing the impact this will have on business bills yet, we've seen the differences energy efficiency projects can make and will expect to see great savings in this area.
Furthermore, tariffs on over 100 goods will be cut to support supply chains, including bicycle frames and car seats. The Energy Secretary is due to expand on this at a later date.
Sizewell C nuclear plant to continue developments
Hunt has also confirmed the government's support for the development of Sizewell C, a nuclear plant predicted to meet 7% of the UK's electricity needs. However, the plant will not start generating electricity until at least 2030.
Sizewell C is also a huge expense – costing £20bn – and will take time to build, for which it is being criticised by some. Hunt confirmed the plant's go-ahead in his 2022 autumn budget announcement, stating that 'a major acceleration of home-grown technologies like offshore wind, carbon capture and storage, and, above all, nuclear' is needed.
He predicts that Sizewell C will help us reach the UK's 2050 net zero target.
Autumn budget 2022: Climate change
During the Chancellor's Autumn budget 2022, he reinforced the importance of 'energy independence combined with energy efficiency', and said that the UK is still committed to their Cop26 target of reducing 68% of emissions.
Despite the windfall tax on renewable energy generation and the VED on electric vehicles, Hunt stated: 'with the existential vulnerability we face, now would be the wrong time to step back from our international climate responsibilities.'
We still welcome this statement as it's good to know that the environment is still a priority – although some of the measures listed in this Autumn budget 2022 breakdown are not that promising.
The Energy Bill Relief Scheme
It has been confirmed that the Energy Bill Relief Scheme will remain in place until 31 March 2023. The government is due to review the scheme as it currently stands, and there's an expectation that, from April, more targeted support will be offered for more vulnerable businesses. It is also believed that the amount of support available will be lower overall.
The review, conducted by the HM Treasury, will be published on 31st December 2022.
Climate Change Levy (CCL) rates
Another change announced in the government Autumn budget 2022 is the 'rebalancing' of Climate Change Levy rates. The rates on electricity will be frozen at £0.00775 kWh in 2024-25, while the main rate on gas will also increase to £0.00775/kWh, so it's the same rate as electric.
The main rate on Liquefied Petroleum Gas (LPG) will remain at £0.02175 to ensure that off-the-grid gas is treated fairly.
The Autumn budget 2022 for businesses
While we wait to find out more about support for businesses and the review of the Energy Bill Relief Scheme, so far the UK Autumn budget 2022 has been met with mixed reactions.
Ignite's team of energy experts can help you navigate the current energy costs and ensure your investments in net zero are not going to waste. We'll help procure you energy for the right price and on the right contract, while rolling out energy efficiency projects that will see both your consumption and bills significantly reduced. These are difficult circumstances and we're here to help you through.
To find out more about our energy services, speak to our team today