"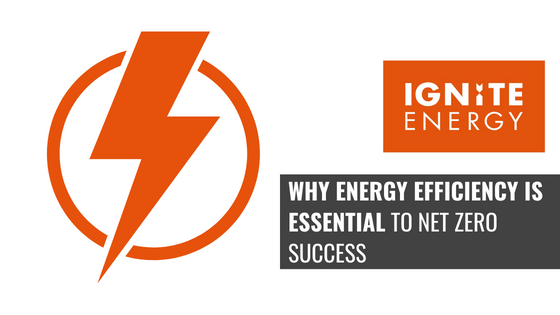 Why Energy Efficiency is Essential to Net Zero Success
June 23, 2022
Many businesses are working towards Net Zero, yet many strategies overlook a key area. As organisations invest in offset projects, or creating new, greener buildings, the opportunities available in their current estate are being missed.
Energy efficiency plays a significant role in meeting Net Zero targets – you can't achieve carbon neutrality without it. By monitoring relevant data and utilising the latest technological innovations, your business will see serious gains from retrofitting buildings for energy efficiency. Ignite Energy specialises in energy efficiency projects that ensure your business saves money as well as taking meaningful steps to achieving Net Zero – keep reading to find out how.
The role of energy efficiency in Net Zero success
When strategising for Net Zero, many businesses overlook the opportunities that exist throughout their current estate. It's common to see them follow green energy procurement with carbon offsetting and even their own energy generation. While these are all great steps to take, it can be more cost effective to revisit current strategies and see what can be improved across your existing estate. You can read more about this and other mistakes to avoid in our net zero strategy guide. 
Energy efficiency is named as the top measure to take for Net Zero success by energy professionals across the UK. Implementing existing technologies alone can increase energy efficiency – with the addition of next-generation tech, this can be enhanced even further.
Committing to energy efficiency projects across your business estate can lead to:
Decrease in operational costs and energy wastage across your estate.
Legislation compliance – with more transparency on your energy usage, you can complete detailed reports that include all the required information to be compliant.
Appealing to potential customers – customers look for businesses whose values align with their own, and being seen to do your part for the planet can bond them to your business.
Another step closer to meeting the Net Zero 2050 targets.
In fact, energy efficiency will help cut 40% of emissions required to meet Net Zero. By using energy in a smart, more valuable way, you'll see significant improvements in many areas of your business. These can span cost savings and carbon emissions reductions to better data collection and improved intelligence on the use of energy across your entire business estate.
The challenges around energy efficiency
Implementing energy saving solutions is not always a simple process. There are many challenges around energy efficiency that may make it difficult for some businesses to roll out the changes they need.
One challenge is simply the lack of information around a business' energy consumption. If you cannot see where energy is being wasted across your estate, how can you correctly identify opportunities for energy efficiency projects?
Here at Ignite, our team of experts analyse all sites across your estate, compiling the relevant information into a comprehensive report. In this report, areas of improvement are clearly identified, and we provide access to all the data for you in a custom dashboard. We'll provide you with a full understanding of your business energy consumption, including problem sites. Read more about our energy data analysis services here.
There may also be cases where businesses have collected the required data, but they don't know what to do with it, or how to work out next steps. Without the right expertise, it's harder to understand which business processes are demanding the most energy, if this is expected, and what can be done about it. This lack of knowledge can delay or even hinder energy saving projects as valuable opportunities are missed.
A heavy reliance on manual data collection can also impact the success of energy efficiency projects. Collecting data manually can naturally lead to errors, such as:
Inaccurate or forgotten readings
Meters that have been tampered with
Delays in compiling data because the manual process can take time, while businesses continue to spend money on energy
When it comes to implementing energy saving solutions in existing buildings, projects can include upgrades to Business Management Systems (BMS) across your estate. Not every business currently has the resources to implement these changes, or, if they do, these projects may initially cost more than expected.
When you partner with Ignite, we can update and optimise, or install new BMS that gives complete control across your estate, right down to individual air conditioning units.
Net Zero & Energy Efficient Solutions for Existing Buildings
Retrofitting projects may seem like a large investment at first, but you'll certainly experience numerous benefits in the long run. These buildings are still going to be around after 2050, and letting them fall behind in terms of sustainability is only going to hinder your net zero strategies.
As current buildings consume a lot of energy, investing in newer technologies could significantly increase the lifespan of a building. By retrofitting buildings for energy efficiency, they'll be cheaper to run and provide better working environments for employees.
With Ignite, these energy saving projects are tailored to your business priorities and the makeup of your estate. We'll evaluate each site individually to identify the right projects, taking a data-driven approach.
Data & Energy Audits – identifying energy inefficiencies and improvements
Ignite take a data-driven approach to energy management, and improves the efficiency of your estate. Our commercial energy audits can help businesses reduce carbon emissions and take important strides towards Net Zero, save money and create a foundation for future energy efficiency projects across your business.
Our energy audits and data-driven approach provide valuable insights into your business's energy use across your entire estate. It's part of our holistic, end-to-end approach to energy management and achieving energy efficiency across your estate.
We provide a free, no-obligation energy audit for eligible businesses, delivering insights essential to your Net Zero strategy. Once our experts have a full understanding of your business goals, we'll conduct these audits and identify:
Sites with high energy usage
Overall every usage trends
Energy wastage across your estate
Occupied and unoccupied energy consumption
Once this audit is complete, our experts will analyse the data to identify areas of improvement and help you put a strategy in place. You can start making improvements in the right areas including bespoke and innovative projects. In our report, each site is ranked best to worst, highlighting opportunities that can bring you huge savings for your business.
We'll communicate our findings with you and your team in a way that works for you. Our experts know how to get staff engaged with the data and excited for the changes to come.
Submetering
When it comes to improved visibility around energy consumption across your estate, submetering is the key. Submeters deliver more valuable and granular data, allowing you to identify any abnormal loads. The insights this provides drives meaningful changes and helps you reach your Net Zero goals.
At Ignite, we are experienced in coordinating submetering projects across large estates. Once we've reviewed current set-ups, we'll work closely with you and your sites to install submeters, keeping any specific building requirements in mind. Once the rollout is complete, we'll continue to monitor your submeters as part of our end-to-end management service, ensuring that they're collecting and providing the data required.
You can read more about how submetering resulted in significant savings for retailer New Look later in this article.
Net Zero & Energy Efficient Solutions for Existing Buildings
You can find out more about reducing consumption in existing commercial buildings, but here's an overview of the initial steps and components that allow us to transform energy efficiency in your business:
Data collection and analysis – identifying influential factors, best and worst performing sites and more. This may include installing submeters.
Commercial energy audits across your estate – highlighting areas for improvement, energy usage trends and valuable data insights.
In-depth reports providing valuable energy consumption insights – for you and your team as well as our experts.
Our team of experts, who are on-hand to help you understand the carbon emissions your business is responsible for.
Providing guidance when setting net zero targets to ensure targets are realistic and achievable.
Work on stakeholder and staff engagement – to meet net zero targets and become energy efficient throughout your estate, a change in mindset is needed. We'll work with stakeholders and your wider team to empower and engage them with your objectives. Find our more about our net zero services.
Energy Efficiency Solutions – Projects
The latest technologies are paving the way for energy efficient solutions for businesses. We're always looking to the future to ensure your business has the edge.
We have many years of experience behind us and our proactive approach means that you'll receive only the best solutions for your site. We'll implement projects such as:
BMS installation, upgrades & optimisation – our expert team can either optimise an existing BMS or upgrade to a more suitable system across your estate. We have a proven track record of getting different systems to work together to provide excellent levels of monitoring and control. This includes being able to spot failed systems before it's even noticed onsite.
Lighting upgrades – we can deliver large scale projects to upgrade your lighting systems to the latest LED technology and provide granular control when integrated with BMS. For example, we can install settings where lights dim to match natural lighting levels, or only turn on when someone is standing beneath them.
Granular projects – following on from BMS enhancements, we'll work with you to make proactive changes to improve lighting, air conditioning, heating across your estate.
Degasification – a key part of reaching net zero is replacing gas heating systems to more sustainable sources. Our team will help switch out gas boilers with heat pumps, to make the most of renewable electricity including solar power.
With each project, we will take our time to get to know you and your goals, integrating ourselves amongst your business in order to customise our projects to produce fantastic results. We're not just going in and disrupting your processes – we're your energy partners, helping you transform your business and reduce carbon emissions.
Ignite Energy is helping large businesses throughout the UK to cut carbon emission and move towards their Net Zero targets. Large organisations have a key role to play in the fight against climate change, and our team is here to help. Popular retailer New Look teamed up with Ignite to boost their carbon footprint and create a positive impact on the environment.
Implementing energy efficiency projects for existing buildings will also set a standard for any buildings you may add to your estate in the future, adding value to your business over the years while working towards carbon neutrality.
And when it comes to your BMS, our team will implement enhancements without compromising on user or customer experience. Find out more about our powerful custom BMS dashboards.
You'll see reduced energy consumption across your estate and energy bill savings in a relatively short time – and even bigger savings in the long run. Our projects include air conditioning, heating and lighting upgrades, leaving no stone unturned as we boost your business' green credentials while staying on budget – your customised, in-depth reports will help you keep track.
Helping New Look become a 100% green business
For over five years, we've worked with New Look on a variety of energy efficiency projects. We looked at New Look's under-performing sites to highlight opportunities for improvement, including reducing energy wastage and increasing savings.
We worked on the following:
One of our most notable projects was installing submeters across stores that lacked Half Hourly meters. Without these, New Look had poor consumption visibility. Ignite worked with New Look to install a total of 63 submeters across England, Scotland, Northern Ireland and the Republic of Ireland, with minimal disruption to New Look's stores. New Look now has clear visibility on their energy usage throughout all stores, and can identify trends and reduce wastage as soon as possible.
Our partnership with New Look has helped them achieve both Carbon Neutral Gold Standard and UN Climate Neutral Now Participation – the first global fashion retailer in the world to do so.
Read more about our energy efficiency projects with New Look.
Partner with Ignite Energy for Energy Efficiency Projects
When it comes to energy efficiency, Ignite Energy are the experts. We've worked on many large-scale projects for multi-site businesses, identifying areas of improvement and implementing these energy efficiency projects across their estate.
Over the years, we've worked to retrofit existing commercial buildings to ensure they're performing as well as they can, providing value to your business and assisting with carbon neutral ambitions. We can help you with your Net Zero journey, staying by your side as we strategise next steps and monitor progress, while delivering results. We'll kickstart transformational change throughout your business, boosting your savings and green credentials.
Click to find out more about our Net Zero energy services, or get in touch today to find out more. You can call us on 0333 023 2222 or email enquiries@igniteenergy.co.uk.