"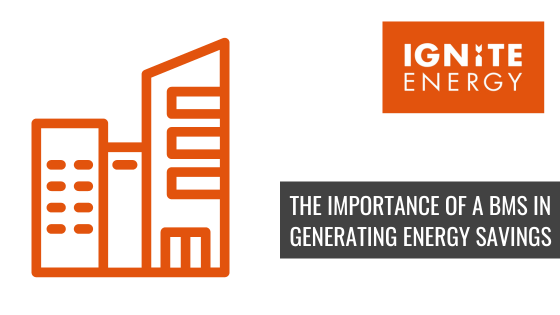 The importance of a building management system in generating energy savings
September 7, 2023
Current circumstances require businesses to save where they can, and with energy being such a significant cost for many large estates, understanding and optimising energy usage can have a significant impact. A building management system (BMS) can make all the difference when it comes to understanding and reducing energy consumption and bills. If your business is relying on an older system or doesn't currently use BMS, you may be struggling to maintain control of your energy.
By enhancing or installing a new BMS, businesses can experience ongoing savings and full control, leading to increased energy efficiency and improved sustainability. With Ignite's BMS enhancements and custom dashboards, you get to experience the full impact of your energy strategies and maintain successes year on year.
Below, our energy experts have highlighted the benefits of BMS' and explore how they can help you with your ongoing energy management.
What is a BMS?
A building management system (BMS) monitors your energy usage and equipment across your estate. The system can be bespoke to your business, customised to increase efficiency of individual sites. Ignite's custom BMS dashboards equip you with the insights needed to build an energy strategy, forecast and budget effectively and provide more control.
From your BMS, you can control a number of systems, including:
Lighting
Heating and air conditioning
Ventilation
Alarms and signage
Refrigeration
More and more businesses are turning to BMS due to the increasing demand for energy efficient buildings. With the spotlight on large businesses to increase their sustainability efforts and make a tangible difference, many energy managers need that extra layer of visibility and automation across their estate to ensure that they are doing all they can. A BMS unlocks that data, especially when utilising Ignite's custom dashboards.
The importance of a building management system in your energy strategy
If utilised correctly, a BMS will become an integral part of your business. With a system that suits your goals and is in line with modern technologies, you'll prepare your business for future market changes and ensure ongoing savings across your estate.
If your building management system is older or not quite fit for purpose, then you may be lacking the full control and visibility you need to make incremental improvements to your energy usage. Installing a new BMS or optimising older equipment allows you to quickly identify issues, alert building maintenance teams and allow better collaboration to sort a problem before it leads to significant cost increases. It may also be harder to implement new energy-saving projects effectively if you have an outdated or incorrectly functioning BMS.
Using the data presented in your reports, a BMS can help you be more proactive with your energy management, acting quickly when issues arise and offering you complete, remote control of your estate.
Benefits of a BMS: providing ongoing energy savings
If you're worried about costs and want to save on energy, then a BMS needs to be the centre of your energy strategy. The initial investment involved in installing a BMS is quickly offset by the savings achieved. It is then imperative to work closely with your energy management consultant to maximise the impact and see continuous improvements year on year.
The benefits of a building management system include:
Saving on energy consumption – and energy bills.
Becoming more proactive in energy management – any improvements or decisions made based on your energy strategy can be actioned in no time. These could include altering A/C temperature bands or lighting changes for different set ups, such as Replenish.
Can identify equipment issues before they lead to more serious problems, integrating with facility managers to minimise impact. If you spot an anomaly in your data, or if a piece of equipment breaks, then engineers will be sent out as soon as possible.
Improving sustainability – the digitalisation of data can help make a difference towards net zero, from rolling out large low-carbon projects to simply monitoring energy consumption. Areas of high consumption, such as employees leaving lights on, can be reduced quickly and easily, minimising energy usage and improving overall efficiency.
At Ignite, we combine our BMS with bespoke dashboards to help you see the data you want to see. This data can be as broad or as granular as you like, identifying under-performing sites, monitoring energy trends and reducing costs overall.
Gain control over your energy
The power of your BMS is limited if it's out of date. Enhancing older, or installing new, building management systems can provide you with far more control over your estate, unlocking transformational change at your fingertips.
Whether you're on or off premises, you can optimise energy systems remotely, adjusting for either individual sites or across your estate as a whole. You can set times to reflect trading hours and adapt to usage trends and ensure consumption is always under control. The speed in which you can make changes means you experience the benefits of your BMS system immediately.
SITE TOO SMALL TO JUSTIFY A FULL BMS? SEE OUR CLOUD-BMS OFFERING
Our systems are designed with your business in mind, providing a bespoke energy management system that aligns with your goals and supporting you as and when you need us. We'll integrate your BMS with existing equipment and work with site managers to ensure employees have a thorough understanding of how your system works.
Ignite's BMS explained
To effectively collect insights across your estate, we optimise and install new BMS' as part of our energy management services. We prioritise your goals and ensure your system is best suited to your business, supporting the installation to ensure your BMS is integrated with existing equipment and you're ready to get started with your energy strategy as soon as possible.
Our support doesn't stop there. We want you to experience energy savings on an ongoing basis, so we'll provide full end-to-end energy management to ensure the results of your BMS installation are maintained. We see ourselves as an extension of your team and want to see your business is performing at its best, at all times.
We're always on-hand for maintenance support as well as working with you on actioning procurement strategies or efficiency projects. Your enhanced BMS provides remote monitoring, meaning you can unlock a wealth of data at your fingertips. Using this data we can quickly act on next steps, find the information needed for budgeting and detect equipment failures before losing significant amounts of progress.
Our energy monitoring and management system for analysing data
It's easier to get buy-in for an energy management strategy that's simple to action. With a wealth of data on our side, you can implement energy efficient measures and generate savings once an enhanced BMS is installed.
Our custom dashboards allow you to action insights and make more informed decisions, ensuring you're always meeting targets and building on your successes. The reports are visually designed to include data that's presented in the way you prefer. They're an efficient way of managing your energy, with site managers and sustainability and energy teams having access, too. Your energy reports will include:
Energy wastage and trends
Individual site progress, including underperforming areas
Budgets, to help with forecasting for the future.
Your reports are in-depth and jargon-free, and focus on the areas that matter to you the most. We're always on-hand to help you understand your estate's performance, making sure that you actually experience the value of our insights.
After identifying areas of high consumption and wastage, we'll strategise next steps that you can enact with just the touch of a button. A BMS offers you complete control at both a site-wide and granular level. Whether there's a fault with your air conditioning or lights have been left on overnight, you can quickly jump on these issues before they lead to significant costs.
Paired with our custom dashboards, you have a powerful system on your hands that utilises consumption data and can be actioned in seconds.
Energy management solutions from Ignite
Ignite has experience in installing new and optimising older BMS systems for a variety of businesses. We've seen the difference these systems have made, generating savings and building on successes year after year. 
The enhanced visibility they provide means you can keep track of your progress and maintain high performance, removing the headache that can come with energy management. 
If you're interested in our BMS and custom dashboards, then speak to our expert team by calling 0333 023 2222.