"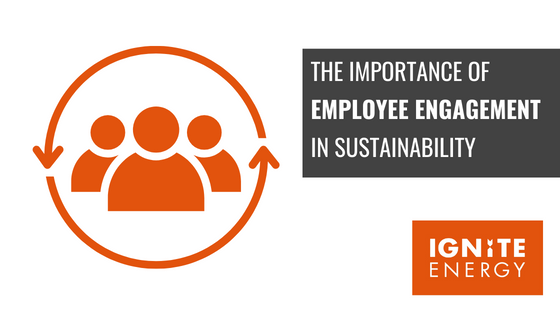 The importance of employee engagement in sustainability
October 13, 2022
Sustainability isn't something you achieve and can tick off a list. It's a learning process, a journey that paves the way for a better future, for both your business and the planet. That's why, when exercising sustainable development in the workplace, everyone should be involved.
Employees can help you drive change and improve your business' green credentials while also contributing to significant savings. As part of our energy efficiency initiatives, Ignite works with employees at all levels of an organisation to ensure sustainability is prioritised. Our experts can help lead transformational change throughout your business by involving employees every step of the way. Keep reading to learn more about the importance of employee engagement in sustainability.
Employee Engagement and Sustainability
Getting all of your business, from senior stakeholders to on-the-ground employees engaged in sustainability leads to tangible results. When everyone is working towards the same goal, then your business will make significant steps towards decarbonisation and net zero.
But that's not the only area in which you'll see change throughout your business. Increased staff satisfaction is just one of the many benefits you'll see when you increase employee engagement in sustainability.
Overall, the benefits of employee sustainability engagement include:
Bringing transformational change to your business
Saving money by reducing energy wastage
Better aligning your business goals with employees' values
Increasing overall job motivation and morale
Boosting reputation – businesses actively working towards net zero are more appealing to consumers.
By holding more people accountable, you will be making sustainability more of a priority and ensuring progress is made
By including staff in your strategy, you're making net zero more than just a department issue – it becomes a company-wide goal instead.
How important is sustainability to employees?
Employees want to help grow a green workplace. A survey from TheTalentPeople found that more than two-thirds of young employees want to work for employers who are doing something for the environment. By aligning company values with those of your staff, you'll likely see improved productivity and retention rates, while helping with talent attraction in a time of competitiveness in the job market.
Ignite Energy takes a proactive approach to drive change across all levels of your business. We have experience working with both company boards and site managers across large estates to identify opportunities where organisations can go green. Our transparent service keeps your team in the loop at all times.
Once our data has been collected for each individual site, we'll present the information to you in a simple way, to guarantee that everyone knows exactly what they're working towards, incentivising employees to achieve each target.
How to engage employees in sustainability
It can be hard to make decarbonisation a priority throughout your business. Often, employees are not involved in their workplace's green initiatives, as they have other work to prioritise, or are unaware of the changes taking place. By putting the right incentives in place, you can easily encourage green employee engagement. Below are some ideas to help you get started.
Green employee benefits
Incorporating green incentives for employees into your strategy can make a significant difference in your sustainability engagement strategy. Linking green targets to overall performance can incentivise staff and get them excited about changes implemented throughout your business.
You first need to ensure you're providing benefits that your staff will want. Find out what areas matter to them and what changes they want to see – if employees feel their needs are being listened to, they're more likely to participate.
At Ignite, your account manager can work from your office from time to time. This allows them to get to know your employee's concerns and join in conversations. They can then provide on the ground explanations, answer any questions they may have, helping ignite their passion for change. Many people want to do what they can to prevent further climate change, but their priorities will be different. It's not just a case of implementing cycle to work schemes or volunteering days. We can help identify what really matters to your staff, and support you as we work towards meaningful goals.
You can also have sustainability champions for each individual site in your estate. These champions help your employee engagement sustainability strategy as individual sites will be more engaged and start to see results. This is something M&S has adopted throughout their stores. You can encourage competition across your estate, to see which site has made the most progress by a certain time period and award them at the end.
As part of our BMS enhancement services, we are able to provide regional managers access to data via customised reports, so each site can keep track of their progress. We support teams and break down the data collected, so employees can get a firm idea of the differences they're making as your strategy progresses.
Workshops on sustainability for employee engagement
How can you encourage employee engagement in sustainability, if employees don't know what exactly they're working towards? Providing your staff with the data and basic skills needed to understand results allows you to track progress and plan next steps.
One way to do this is by hosting sustainability workshops and training programmes. These ideally will be offered to all employees, not just your sustainability champions. From here, they can learn how much climate change is affecting your business and become more involved. You can also receive feedback on changes made so far, and help employees understand how they can make a meaningful difference.
Green workshops work best when you are as specific as possible – for example, exactly how much energy is wasted if lights are left on, or faulty equipment is left unfixed. This paints a clearer picture of your overall sustainability strategy for employees, enabling you to take proactive steps towards decarbonisation.
There are plenty of sustainability workshop ideas out there, and, here at Ignite, we can help. We'll work with you to host workshops on sustainability, making sure that your workforce stays informed. We'll provide the insights needed, identifying opportunities for each individual site and present them in digestible reports that you, or your sustainability champions, can feedback to other employees.
Set data driven goals as part of employee sustainability initiatives
Innovative, data-led strategies are the way forward when it comes to net zero. Any targets you set should be measurable and attainable. This means avoiding broad statements such as 'reduce emissions,' and instead aim to 'reduce consumption by 30% by 2030.' The benefits of setting these more tangible targets contributes to employee engagement and overall sustainability, as staff now have goals they can proactively work towards.
Ignite analyse your consumption data across your estate, looking at each site to identify areas for improvement. This allows us to suggest bespoke energy efficiency projects tailored to particular sites. We can liaise with managers so they understand the details and importance of the projects to communicate it with their team. Once areas of improvement have been identified, only then can you set data-driven goals that employees fully understand.
Ignite gives both managers and employees access to tools that help track energy consumption. With clearer understanding of data collected from across your portfolio, we can proactively work towards creating a more sustainable business, identifying opportunities to improve efficiency and costs. We'll take you through every step of the process, from custom BMS dashboards to lighting upgrades, ensuring we're on track. We can also present this data to your sustainability champions and employees, keeping them in the loop at all times.
Energy efficiency projects to drive cultural change
Ignite Energy delivers large-scale energy efficiency projects tailored to your estate, based on the data-driven insights we've collected. We have years of experience behind us, working with some of the UK's most well known businesses and assisting with their net zero strategies.
Our energy efficiency projects include:
Lighting upgrades
BMS enhancements/upgrades
Time of day/peak time energy measures
Plant enhancements & upgrades
One business that has experienced significant savings and energy usage reductions is Pets At Home. After analysing consumption across their portfolio, Ignite were able to implement bespoke energy efficiency projects, including LED lighting rollouts and control system optimisations. This granted each site more control over their lighting, air conditioning and other systems, creating a better-managed energy system overall. To find out more about our work with Pets At Home, click to read our case study.
As each project is bespoke, it allows us to drive transformational change from top to bottom. We can get staff involved with every level of these projects, engaging key stakeholders, managers and team members to work towards energy efficiency. Encouraging the right cultural mindset is key for employee engagement and sustainability.
Click to see how our energy efficiency projects can help you along your net zero journey.
Net Zero Services for your business
As we work towards reducing energy consumption across your business, we will also work towards your net zero goals. We have the experience required to conduct large net zero projects across your estate, delivering the changes needed to achieve science-based targets.
We work with you to build long term strategies based on specific, attainable targets. Our net zero services include:
The pressure is on for large businesses to do what they can for the environment. Our net zero services maximise opportunities currently available across your portfolio, remain compliant and experience the changes you want to see.
Net Zero Services for your business
Our team of experts can guide you along your net zero journey, providing a supportive service that covers all aspects of your business. With strategic insights and years of experience behind us, we're the right energy partner to help you achieve carbon neutrality. Get in touch today at: enquiries@igniteenergy.co.uk or call 0333 023 2222.