"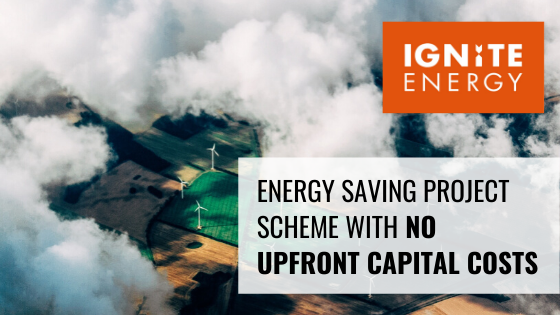 Ignite Energy launch energy saving project scheme with no upfront capital costs for businesses
Originally Posted: May 21, 2020
May 4, 2020
In these unprecedented times, many large multi-site businesses are being forced to radically adapt to the situation as it unfolds. As well as dealing with the impact of COVID-19, businesses need to look ahead at ways to facilitate their post-pandemic recovery. 
One of the challenges many of these businesses will face coming out the other side of coronavirus is around cash flow. A lack of readily available capital will prevent them from investing in the kind of projects that could offer the key to their recovery and growth. This is particularly true of most energy saving and efficiency projects.     
At Ignite Energy, we are therefore proud to announce a new offering that means large businesses can benefit from our energy demand reduction projects without upfront capital investment. 
Ignite is in a position to deliver energy efficiency projects to eligible businesses that could save them millions of pounds, with zero upfront capital investment. The projects will be developed following our highly successful process that:
identifies opportunities 

develops bespoke projects that take your business's unique requirements and operations into account 

implements solutions across hundreds of sites in short time-scales with minimal disruption

verifies that expected (or better) savings have been achieved
Ignite have been delivering a range of innovative energy saving projects and initiatives to multi-site businesses across various sectors for over 10 years. These projects use the latest and best technologies to reduce energy demand and improve efficiency across multiple sites. 
We have a proven track record working with some of the UK's biggest and most well known businesses. Our work has resulted in a huge decline in energy usage across our client's entire estates, equating to millions of pounds of savings. These projects are now being made available to your business without the need for capital cost. 
Our data-lead projects save businesses significant amounts of money and form the basis of an energy management strategy that achieves their long-term energy goals.
How funded projects work
Ignite, with our trusted partners, will fund medium to large-scale energy saving projects for our customers. We require no capital investment from eligible businesses. You effectively pay for the projects by sharing a proportion of the savings generated from our work. We verify savings according to IPMVP methodology, ensuring that expected or better reductions in energy consumption and savings are seen coming back into your business.
With energy saving projects, it's important to act quickly to secure savings. Every day that passes can equate to missing out on thousands of pounds in savings and money out the door that you can't get back. The savings lost by waiting for even a single year goes far above any cost incurred from borrowing money to fund a project. Our funded solution unlocks savings for your business far quicker than waiting for Capex to be available, especially in a time where cash may be in short supply or directed toward other priorities.
Reducing energy costs
If your business is looking for ways to reduce costs but doesn't currently have the cash available to do larger-scale energy projects, then this could be the answer you're looking for. Our projects have a substantial impact on outgoing energy costs and could result in your business having millions of pounds available that was previously tied into running costs.
Contact Ignite to find out more
It's important to act now and find out more about this highly lucrative shared saving scheme. It could provide your business with a lifeline in challenging times. Speak to our team on 0333 023 2222 or email enquiries@igniteenergy.co.uk to find out more.