"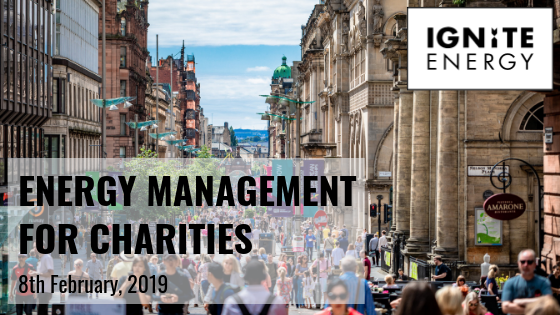 How energy management can help charities to save money
February 8, 2019
Are you a charity looking to save money on operating costs? Is your charitable organisation struggling to survive in the face of growing competition and a tough financial climate?
Energy is one of the biggest financial costs that charities incur annually. Ignite Energy could help you drastically reduce your energy spend.
Saving on high utility bills could be one of the best ways to tackle the numerous challenges facing your charitable organisation. But what are those challenges?
Financial challenges for charities
Here are 5 of the biggest challenges that charities face today:
Austerity 
The UK has been governed using an austerity program since 2010. This has affected many aspects of how charities operate. The average person in the UK has less expendable income to support good causes such as local or national charities. According to the Institute for Fiscal Studies, annual earnings are still more than 3% lower than in 2008. With less money in the public's pocket, charitable donations continue to suffer.
Increased Competition 
An increase in new charities and crowdfunding has brought greater competition for patronage. The emergence of digital donation platforms have enabled more charities and causes to platform themselves online. Crowdfunding sites offer low-cost options for charities collecting donations and presenting their proposition. With that rise in competition, older and larger organisations have struggled to adapt. A slow creep in national wage growth versus an explosion in charitable causes vying for attention means that donations are spread more thinly across more charitable organisations.
Bad press for UK Charities 
A number of negative stories reported in the media about the mismanagement of finances and resources in high profile charities have also rocked public confidence. Pressure is now mounting on these charities to demonstrate greater transparency on how government and public funding is spent. The public, in particular, has never been more sceptical of how charities are run. They want to know much more about how charities are managed and what money is being spent on.
Charities are now under increasing pressure to perform and to provide detailed reporting on spending – all under the harsh conditions of dwindling funding
Brexit 
Recent research from the Directory of Social Change has predicted that UK charities risk losing at least £258m in EU funds due to the effects of Brexit. Government funds have traditionally been the lifeblood of many charitable organisations across the UK. If this funding is dramatically cut when the UK leaves Europe charities will have to plug the hole with cuts across operations.
"Death of the high-street" 
Highstreets across the country have changed dramatically in the last ten years. As big businesses disappear, charity shops and budget stores have taken their place. Although this is good news for multi-site charities such as St Peters Hospice, Oxfam, Bernardos, The Salvation Army and many more, locations in prime retail positions have become more and more expensive to rent. This is troubling for many charitable organisations that have historically operated from the high-street.
In the face of these increasing challenges, how can charities positively respond to ensure they continue to make a difference? We have several core services that could transform your utilities spend. Call us today to find out more 0333 023 2222.
1.    Energy Utility Spending
Many charities will inevitably start to look at their expenditure budgets and where potential savings can be made. This is where we can help. Ignite offer several services that can help you to achieve your energy-saving goals. Small changes can mean big savings. Taking control of your utilities and energy spending should be a priority.
2.    Energy Bill Validation for charities
Organisations have historically been overcharged for electricity and gas. If unchecked, years of overcharging on energy can occur. Ignite check energy bills against actual consumption and correct any errors found as quickly as possible.
We have recovered millions of pounds in aggregate for our customers through detection and error resolution. Our bill validation service has enabled our clients to vastly reduce their spend on utilities and energy. This helps them to reroute vital resources to other areas of their businesses.
3.    Energy Procurement Service
Under increased strain, comparing the energy market for the best rates can often be ignored by busy admin and finance teams and many traditional brokers hide large commission and fees within supply contracts. Ignite Energy do the research so you don't have to and offer a transparent service with no hidden fees. Better still, we constantly watch the energy market ensuring that you're always getting the best prices for your energy.
Ignite offer unique end to end energy procurement services that involve managing procurement opportunities, controlling budget and managing risk amongst European markets. We offer detailed knowledge combined with robust reporting.
4.    Energy Saving Projects
Once energy spending has been brought into check, implementing innovative energy efficiency saving solutions is a logical step in ensuring that savings continue. Ignite Energy has an incredible track record in providing pioneering energy-saving solutions for our clients.
Find out about some of the incredible energy efficiency projects we have designed and installed across the UK.
Caring About Cleaner Energy Solutions
Implementing energy saving solutions across your site portfolios will be demonstrated to patrons that the charity cares about responsible, clean and environmentally friendly energy. In a world where people want to know that they are donating to responsible organisations, energy efficiency solutions make great 'good news' stories.
Ensuring the energy you use comes from green sources is also important. We are able to procure REGO backed energy, enhanced REGO and Power Purchase Agreements to make sure the energy you buy comes from clean, renewable generation.
Caring about the environment and conserving natural resources for future generations has never been a more important message. Energy efficiency solutions will help your charity to deliver that message to patrons whilst also saving your organisation millions in energy spending.
We helped New Look become 100% green through our partnership and sustainability experience. When it comes to developing net zero strategies, Ignite are also here to help.
Why Ignite Energy?
Charities stand to benefit from working with Ignite Energy in many ways. Gaining control of energy and utility spending will help to lower operating costs and so, therefore, help the organisation.
We've been in the industry for many years helping organisations throughout the UK to limit their energy spend through innovative methods, technologies and careful management. See our full range of energy management services.
Contact us today to see how we can help your charity save on energy.