"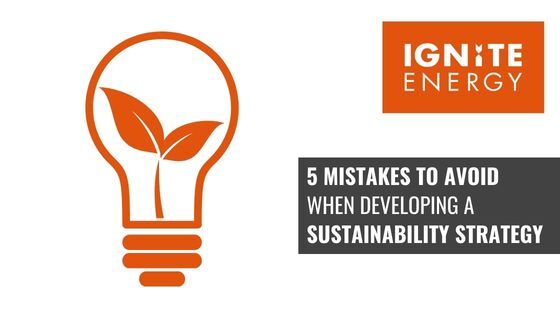 5 mistakes to avoid when developing a sustainability strategy
January 19, 2023
Large businesses have the power to reduce their impact on climate change by building and implementing a sustainability strategy. Creating a detailed, achievable strategy for sustainability ensures that you're taking the right steps and have a clear roadmap to decarbonisation.
Your strategy should be based on clear, data-driven targets that focus on the right areas of your business. This will provide a clear idea of what you need to work on and how you're progressing. In this guide we'll go through common sustainability strategy mistakes so you can create a solid roadmap to net zero.
Why is a sustainability strategy important in business?
Sustainability is not just a trend – it's a pressing issue that needs to be taken seriously by large businesses. While 90% of executives believe sustainability is important, only 60% of organisations have a strategy in place.
It could be that your current sustainability plans have been placed on the back burner while other business matters take priority. Or, you've made a statement about your sustainability targets but don't yet have any idea how to get there. Either way, creating a strategy for sustainability requires setting targets that are feasible and achievable, and shouldn't be left out of your overall business goals. A dedicated strategy is your promise to do your bit for the planet and make as much of a difference as possible.
Not only that, developing a sustainability strategy gives you a competitive advantage while also appealing to consumers. For many customers, choosing businesses that align with their values is more of a priority and becoming a fully sustainable company will attract more of your target audience. Finally, an active strategy can lead to better decision making and save you money in the long run.
The types of sustainability strategies
A good sustainability strategy has three pillars:
Environmental – this focuses on reducing your business' carbon footprint.
Social – this involves working with stakeholders and employees, as well as your local community. Note that this also includes those organisations within your supply chain.
Economic – also known as the 'governance' pillar, this relates to compliance and finance. As a business it's easy to focus on this particular pillar, but it's important to not let this top the other two.
Compliance and reporting should be featured at every stage of your business sustainability strategy. This provides more transparency while ensuring you're staying compliant throughout your net zero journey. Ignite can help you cut through the compliancy jargon and make this a simple process – click to learn more about our energy compliance services.
5 mistakes to avoid when creating a business strategy for sustainability
When writing a sustainability strategy, design it so it actually meets your goals and benefits your business. There's a lot to consider and it can be easy to overlook certain areas or be too ambitious with your targets. That's why we've listed five mistakes to avoid when developing your sustainability strategy.
1. Not setting achievable, data-driven targets
Setting your Net Zero targets can feel overwhelming, especially if you're choosing large numbers or setting a lot of goals all at once. It's vitally important to set meaningful science-based targets, and to fully understand what you're measuring and why.
Understanding the importance of your goals and their impact can help you prioritise targets while also helping get more buy-in within your business and key stakeholders. This understanding comes from getting to know your current emissions and their impact on the environment.
Correctly collecting data from across your estate will provide you with all the information you need. Ignite will present your data in comprehensive reports, working with you, your sustainability champions and other employees to ensure everyone is on the same page. From here, we can then map your Net Zero journey with the right data behind you.
So, what is a good net zero target? When writing your sustainability action plan, think carefully about the timeline. Going with a broad, very long-term goal such as 'become carbon neutral by 2030' is not immediate enough and leaves you room to return to business as usual. Setting both short and long-term goals makes it easier to progress and focus on what you can do right now. For a long goal, the SBTI says to set goals for 2050 at the latest, but you can work towards smaller goals before then, too.
You should also consider the feasibility of your goals. For example, if you're thinking of switching to solar – do you have suitable sites for self-generation? Enough roof or land space for panels? If not, where will you get this from? There's not much point setting goals that you know you can't achieve.
2. Avoid making sweeping statements
Another reason to avoid setting broad targets that are too far ahead or not data driven is that this often leads to sweeping statements when announcing your sustainability strategy. Consumers – particularly younger generations – will really hone in on a business' strategy and scrutinise the claims. Climate change is important to them, and they are more likely to choose brands that align with their values. They want to see sustainability strategies that are tangible and meaningful – nothing that implies green washing and empty rhetoric.
When publishing your strategies for business sustainability, you need to make your goals as clear as possible. Be transparent with your plans and avoid long, wordy documents. For some readers these can come across as suspicious – many users do not read every page of a long-winded document they've found online, so why would a business choose to showcase their net zero goals this way? Instead, keep your statements short and concise, but let nothing go unmentioned.
This is why it's also important to watch your phrasing. Make sure you're using the right words when creating your statement.As an example, avoid phrases like 'reducing' when you're actually swapping materials for alternatives. You should also be clear on the difference between 'net zero' and 'carbon neutrality'.
And remember – you're only considered a net zero company when all long term targets are met. So yes, you can share updates regarding your process, but do not claim to be 100% net zero if that's not the case.
3. Not including Scope 3 in your Net Zero strategy
When reporting on your greenhouse gas (GHG) emissions, Scopes 1 and 2 are mandatory. However, that's not the case for Scope 3, which covers emissions created from supply chains, business travel and employee commuting – essentially, any emissions not created by your company directly.
Because you don't have to report on Scope 3, you may be leaving this scope out of your GHG reporting. This means that there are likely emissions directly associated with your business that you're leaving out of your sustainability strategy. These unchecked emissions can impact your goals and your net zero status. In many cases, scope 3 emissions account for more than 70% of businesses' carbon footprints, so by not reporting on this scope you're not looking at the full picture.
To become a completely sustainable business, you need to include Scope 3 in your strategy. However, we understand that this is one of the hardest scopes to track, which is why we aim to relieve some of the stress out of the process. Our end-to-end management service means that all of your reporting requirements are taken care of, with our data-led approach keeping track of all business emissions while finding areas of improvement. All of this includes Scope 3, breaking down the requirements and ensuring you're meeting compliance.
You can find out more about our GHG reporting services here, or if you're concerned about compliance in general, we have all types of energy compliance covered, too.
4. Only focussing on carbon offsetting projects
While investing in carbon offsets isn't a bad thing, it shouldn't dominate your strategy. Developing a corporate sustainability strategy is all about not adding more carbon to the atmosphere, not just offsetting bad habits. It's important therefore to focus on reducing your own emissions and not let offsetting take over.
If carbon offsets were the only solution, then we would've made more progress in reaching net zero. However, there is not enough capacity on Earth for every business to invest in common carbon offsetting projects. For example, if tree planting schemes were used alone to achieve net zero, we would need 1.6 billion hectares of new forests – that's the equivalent to land 5x times larger than India. We can't depend solely on these schemes to combat climate change.
Offsetting is still important but should be one of the final stages of your strategy – not just a way to continue as you are. Energy efficiency projects allow you to make changes based on opportunities already part of your estate, and actually reduces energy consumption for your business. They take you one step further than generating or purchasing green energy, as you decrease your energy consumption, gain better visibility across your estate – which is helpful for compliance – and reduce operational costs.
Investing in enhanced technology and retrofit projects may not seem like a viable option right now, considering the current circumstances, but you'll earn significant savings in the medium term and well into the future as well as making great progress with your sustainability strategy. Read more about net zero and energy efficiency in our guide.
5. Not regularly reviewing your sustainability strategy
How will you know if you're making progress towards net zero if you're not checking in? Creating and announcing a sustainability strategy isn't just something you can do and then forget about. Taking the time to regularly review your progress ensures that you're meeting your goals, reaping the benefits while adding an element of accountability.
This is also another reason to break your sustainability strategy down into multiple short-term goals. As you reach your targets regularly, you'll need to come back and decide on next steps. This will be an opportunity to reflect on your strategy, current processes and next steps. You'll also keep up momentum – seeing your successes will make you excited to keep going. Technology also evolves and represents new opportunities to reduce emissions.
You'll inspire everyone to get involved and come up with new ways to decarbonise your business. You can find new opportunities within your estate to capitalise on, and come together to strategise next steps. If you've been properly collecting data as we mentioned before, then you'll have plenty of information to help you with this.
And remember, if you feel you're not making enough progress, or your strategy isn't going to plan, you can set new goals and start again – they're not set in stone!
Developing business sustainability strategies
Whether you're just starting on your net zero strategy, you've made a statement about your targets without knowing how to get there, or your current strategy isn't working, Ignite can work with you to make sure you meet your sustainability goals.
Our net zero services include strategy, compliance and reducing consumption, covering all bases for your entire estate – including reporting on Scope 3 emissions. Our team has extensive knowledge and experience in helping businesses with their net zero journeys, crafting strategies unique to them. We'll deliver energy efficient solutions and track progress, supporting you every step of the way.
To see how Ignite can help your business, read more about our net zero services or get in touch.