"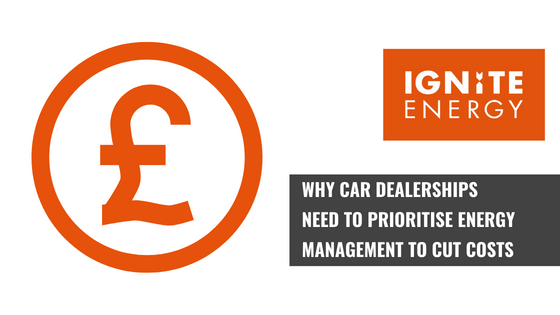 Why car dealerships need to prioritise energy management to cut costs
March 13, 2023
Today, more than ever, car dealerships face a myriad of challenges that need to be managed effectively, as they may threaten the future of some businesses longevity. These include a sharp incline in the costs of overheads including energy, ongoing supply chain pressures and the cost of living crisis have combined to create a complex landscape. To support the longevity of your dealership and support navigating these challenges, you need to prioritise cost cutting and efficiency.
At Ignite Energy, we offer holistic end-to-end energy management, enabling your business to purchase in the right way, alongside optimising consumption and complimenting your sustainability approach. We cover energy procurement and bill validation alongside robust budget creation, as well as the implementation of effective energy saving projects tailored to your requirements. We help car dealerships take control of their energy and strip out any unnecessary costs.
Why are Car Dealerships facing rising costs?
Rising energy costs are a huge issue for businesses and car dealerships are no exception. In fact, car dealerships could potentially be facing substantially higher operating costs due to both supply and energy usage.
With car dealerships estates usually covering multiple premises with mixed portfolios (offices, warehouses, showrooms and garages) even a small increase in energy costs can have a dramatic impact across all sites.
In order to make car showrooms more attractive to potential customers, showrooms also tend to keep energy-intensive lights on throughout both day and night. This can prove to be a major hindrance when it comes to meeting net zero targets, and appear as a failure in the face of rising pressures around improving sustainability.
Is your Car Dealership Energy Efficient?
With increases in energy costs impacting businesses like yours, the need for energy efficiency is clear. In order to make your sites more energy efficient, you must first understand any inefficiencies across your portfolio. You need to accurately monitor and understand your energy data across each site, whether that's individual office spaces, garages as well as showrooms.
Ignite offers an extensive energy analysis service to provide you and your energy team with a full picture of your energy usage. We work with you to develop custom reports to help you gain expert insights across your portfolio. To start with, it is important to ask yourself a few key questions:
Do you have accurate data on consumption across your portfolio?
Are you confident you're only paying for the energy you're using?
Which are your most energy efficient sites? Which are the least efficient?
What energy efficiency projects make most sense?
What key issues in your industry might stop you from achieving your energy efficiency goals?
How Ignite's Energy Management Service can help Car Dealerships Save Money
At Ignite, we offer a holistic energy management service, covering both supply and demand. Our end-to-end approach, outstanding customer service and long-term partnerships ensure a transformational impact on your auto business.
Energy Procurement for Car Dealerships
Energy procurement can seem like a complex process but it shouldn't be. With many years of experience trading in UK and European energy markets, Ignite Energy offer a procurement service for car dealerships that is clear and prioritises professional communication and best in class service levels. Our transparent procurement service is always aligned with your needs, ensuring the best price while considering your appetite for risk.
We will help you prioritise sustainability through renewable energy procurement, negotiating a contract that aligns to your brand values and CSR.
Power Purchase Agreements (PPA) could be a good option for car dealerships, providing longer-term price certainty and demonstrating your commitment to renewable energy. It also forms part of our net zero service, helping you reach meaningful targets.
Energy Bill Validation for Car Dealerships
Many large businesses end up paying for energy they don't use. Car dealerships are no different. Energy bill validation is essential for any business looking to reduce their energy costs. With larger sites, or for car dealerships with numerous showrooms, it is too easy for errors to occur, causing you to pay for energy you have not even used.
Our extensive experience managing bill validation for large estates makes it a stress-free process for your business. Using our leading commercial energy bill validation software and expert team, we rigorously analyse your energy bills to ensure that any discrepancies are swiftly corrected. This saves you money, and ensures you're correctly billed going forward. We also offer a historical bill validation service, auditing energy bills from the past six years, alongside a robust accruals and budget service.
Energy Saving Ideas for Car Dealerships
Ignite help you save energy with data-driven energy efficiency projects. We have a proven track record of reducing demand through innovative solutions, something that's essential in the current climate.
By discovering exactly where and why energy wastage occurs in your business, we can offer bespoke energy efficiency projects to reduce consumption. This can be estate-wide changes down to tailored projects for individual sites.
Ignite offers a range of demand side solutions to ensure that your car dealership reduces energy consumption and emissions wherever possible so you can cut costs and achieve your sustainability goals.
BMS Optimisation for Car Dealerships
Ignite offer bespoke Building Management System (BMS) enhancements tailored to your needs. We give you control over your entire portfolio which makes implementing changes effortless, from sitewide adjustments to controlling individual air conditioning units. Our BMS optimisations are data driven, allowing you to hone in on any inefficiencies that may be present in your car dealership and make proactive changes at the touch of a button.
Car Showroom Lighting Solutions
Lighting is an incredibly important aspect for any car showroom, whether that's lights in the shopfloor or floodlights on the premises. It improves visibility of a showroom's main asset – the cars themselves.
This is one of the reasons why many car dealers struggle to improve their green credentials. Ignite has the expertise and project teams required to help even the largest of showrooms to prioritise sustainability with innovative lighting solutions.
[H4] What is the best lighting for car dealerships?
Lighting for your car showroom must provide sufficient light to show potential customers the quality of the cars you offer. Unfortunately, out-dated lighting can be inefficient and therefore incredibly expensive, especially considering the energy market in recent times. It is therefore crucial that your lighting solution is both efficient and effective.
LED lighting upgrades are a great choice for any car dealership interested in improving their current lighting setup. LED lights provide a better colour index rating, resulting in a better quality light for your car showroom while also reducing glare. A well-lit showroom will help to entice potential customers in and sell more cars.
With an average return on investment of 1-3 years, and the option to retrofit LED lights, it's no wonder that LED lighting is so popular for businesses that require larger lighting solutions.
What are the advantages of LED lighting in car showrooms?
LED lighting solutions deliver a range of benefits to car showrooms as well as the rest of your estate, providing both a practical and energy efficient solution. They also grant you more control when paired with a BMS dashboard. Some of the key advantages of LED lights are:
Reduce energy usage.
Lower maintenance costs.
Highly durable when compared to other lighting.
Allow full control when paired with a custom BMS dashboard.
More energy efficient, helping you to reach net zero targets.
Longer lifespan than alternatives – up to 70,000 hours.
LED lights are not impacted by lower temperatures.
Extremely effective as an external light source.
Commercial Energy Saving Projects
We work closely with your energy team to tailor our energy saving solutions to your specific needs. The following are some of the energy saving projects that we offer:
LED lighting upgrades, controls and refits – our innovative energy saving lighting solutions have saved businesses millions of pounds.
BMS/building controls installation, optimisation and support.
Plant efficiency measures.
Plant / system upgrades and technology changes.
Time of day / peak cost avoidance measures.
Find out more about some of our successful commercial energy saving projects.
Partner with Ignite Energy today
For any car dealership looking to reduce their energy costs and achieve sustainability targets, Ignite Energy will work closely with you to achieve all of this and more. Our energy solutions are tailored to you, and our expert team will be with you every step of the way. Our breadth of experience and expertise allows us to utilise proven strategies to reduce your energy usage, allowing you to take control of energy within your business. Contact us today to find out more.
Email us: enquiries@igniteenergy.co.uk
Call us: 0333 023 2222.