"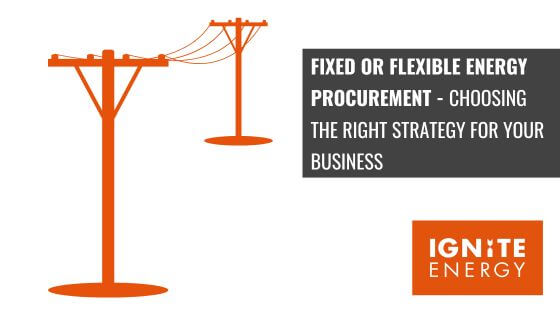 Fixed or flexible energy procurement – choosing the right strategy for your business
April 23, 2023
An energy procurement strategy is an essential part of any business, especially when energy prices are fluctuating and you have multiple sites to manage. It can be a complex process at the best of times, and incorrectly managed energy procurement can expose your business to additional costs, as well as potentially limit your options when looking to reduce consumption and avoid charges later down the line.
Ignite helps large multi-site businesses develop a tailored energy procurement strategy and build an approach that meets their goals. To help get started, we'll break down the differences between fixed & flexible contracts and which would be right for you
Fixed vs flexible – explaining the types of energy contracts
It's important to fully understand both types of agreements when planning your energy strategy. Both procurement contracts have their benefits, but what's right for you will depend on your needs and appetite for risk.
We'll explore the differences between fixed and flexible procurement below.
What is a fixed energy contract for businesses?
A fixed energy contract is a more traditional form of procurement in which costs are locked in as soon as contracts are signed and accepted by an energy supplier. It offers businesses fixed energy costs for a period of time, meaning that you're usually protected against rising costs for the duration of your contract. If your business has a low risk appetite and wants to lock in an energy contract until the next round, then fixed procurement is ideal for you.
Accurate budgeting is a must for businesses, with clear data helping navigate difficult circumstances without that element of uncertainty. Fixed price procurement makes forecasting easier for the next financial year. We'll advise you on when to purchase, ensuring that you capitalise on any opportunities and secure the best price. Our data-led processes means you receive in-depth, thorough reporting to help you keep track and predict spend.
Like all energy contracts, there are considerations to keep in mind when exploring fixed procurement. Firstly, 'fixed' does not sometimes mean that your prices will never change within your contract term – third party costs are subject to change and will affect what you pay. If your energy procurement is managed incorrectly, you may also be locked into a contract where you pay more than what you need.
You should also note that with fixed energy contracts, that once the term ends you may experience large price hikes, depending on current market shifts. We've seen businesses who had hedged well and mitigated recent cost increases face extreme increases as their agreements come to an end. This is why it's important to purchase at the right time and work with your energy management partner to navigate any turbulence as the end of your contract nears.
Ignite is an independent company liaising with quality suppliers to find the best solution for your business. We'll work with them on product features to ensure you get the most value out of your contract, and partner with a supplier who's the right fit. Our impartial advice and expertise in energy management means that we're best placed to help you with your procurement strategy.
What is a flexible energy contract?
Flexible energy procurement allows you to purchase energy when opportunities arise, helping you manage the risk of market volatility by purchasing over time. You're essentially capitalising on the energy market, striking when prices are low. It can be more of an intricate process, but if managed correctly can be extremely beneficial for your business.
With flexible procurement, you can create a bespoke strategy that adjusts to meet your goals. You're working with the energy market, rather than working against it, while taking into account your energy reduction, net zero and ESG goals. It's a proven approach to mitigating market spikes through a robust risk management strategy.
If you're unsure when to purchase or are apprehensive about managing flexible procurement, Ignite is here to help. Our energy experts follow real-time market updates which feed into our advice, tracking all commodities including oil, natural gas, coal and power. We also monitor global events and macroeconomics, making sure that we're always ahead of the curve and you're maximising your spend. We'll guide you throughout the process and manage as much as you'd like us to, keeping your needs in mind.
Fixed or flexible energy contracts – which is right for your business?
The type of procurement contract you choose will heavily depend on your budget, business goals and appetite for risk. Volume is also a key consideration, as not all products are available to all business types at all times.
For smaller energy consumers, or businesses looking for security and ease, fixed tends to be the more popular choice. If you're a larger consumer and would prefer to purchase at market lows to manage volatility, then flexible energy contracts are a good fit.
Fluctuating energy prices may initially deter businesses from flexible contracts and mean they opt for fixed procurement instead, but it's important to remember that this leaves you with less room for mitigating high prices if they increase towards the end of your contract. Essentially, you're choosing between locking out a full requirement on one given day, or spreading out decisions for a period of time.
Fixed procurement is a simpler option, whereas flexible contracts tend to be more complex. Either way, timing is a key element of procurement contracts. For fixed, you need to lock in a contract at a low price, whereas flexible means purchasing whenever the market dips.
At Ignite, we'll help decide which option is right for you. Our team specialises in taking complex landscapes and making strategic purchasing of energy more accessible to business, so you can maximise your contract – whether you're on fixed or flexible – and easily achieve your goals.
Ignite's energy procurement services
Professionalism and transparency are at the heart of our energy procurement services. We work with suppliers to find the best contract options for your business, keeping you informed from start to finish. We're trusted by a variety of businesses throughout the UK to provide impartial advice, with your needs at the forefront of our strategies.
A lot of research goes into crafting an energy procurement strategy. We'll take a deep dive into your business goals, market trends and current events, incorporating these into your energy management. Utilising the data we've received, we create a tailored procurement plan that makes budgeting a little easier and gives you the best value for money.
Our energy procurement services include:
Fixed and flexible energy procurement agreements in the UK, Europe and USA
Hedging and trading strategies created and fully managed by our expert team
Contract negotiation and ongoing management
Risk management services
Analysis of energy markets, all compiled into comprehensive reports
Budget planning and forecasting
Whether you're looking for fixed or flexible procurement, or are trying to decide the best contract type for your business, get in touch and we can help plan your energy procurement strategy.
Monitoring the market with our risk management services
The energy market can shift dramatically, and current high volatility means that it's more important than ever to review current energy strategies. Our team has extensive knowledge of energy markets, and, combined with an analysis of current events, we help you build your strategy. We monitor market trends to ensure you purchase at the right price and stay protected throughout your contract.
We take a data-driven approach to energy management – it's the cornerstone of our services and the key to transforming all levels of your business. With in-depth knowledge at our fingertips, we build accurate reports and insights to help you make better-informed decisions and achieve your goals.
Our energy manager portal provides you with all the data you need, presented in a clear, concise way. We'll advise you in an impartial, jargon-free manner, so you understand the information we're presenting and are 100% informed. This way, you can easily weigh your options and choose the energy contract that best fits your business.
Renewable energy procurement
In a time where large businesses are held accountable for their environmental impact, renewable energy procurement is beneficial for your business. Current circumstances mean that budgets may be prioritised over sustainability goals, but with our renewable procurement services, you can decarbonise your business in a budget-friendly way.
Corporate Power Purchase Agreements (CPPAs) are increasingly popular energy contracts where you purchase green energy directly from specific renewable assets. This allows you to fix some of your commodity costs for 5-25 years, depending on the generator type and contract negotiation.
There's a variety of contracts available – we'll explore the different types and help you find the one that best fits your needs. You can forecast costs easily and make a real difference for the environment, working towards net zero in a more tangible way.
Ignite have successfully negotiated and placed CPPAs, and lead the market when negotiating agreements. While we unfortunately can't lower the price of energy, we can manage your energy procurement and source green energy at the right time and price. Our team has years of experience behind us, meaning we are well-equipped to handle the complexities and secure a renewable fixed or flexible procurement contract which aligns with your goals.
Read more about our net zero services.
Energy procurement from Ignite
When it comes to energy procurement, there are a number of options available, each requiring careful and proactive management to ensure success. Whether you choose a fixed or flexible procurement contract, Ignite can take care of the entire process, providing budget certainty and maximising budgets.
Having worked with a variety of the UK's largest businesses, we have the experience required to navigate the market and secure the right contract for you. Find out more about our energy procurement services here, or fill in an enquiry form to speak to our team.