"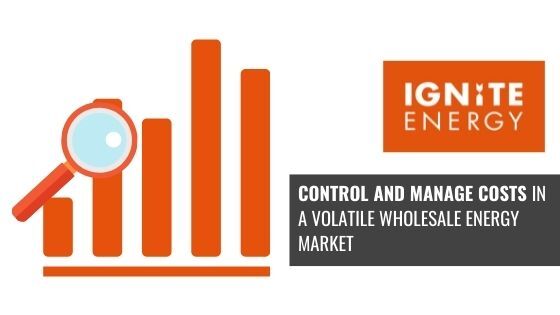 How to control and manage costs in a volatile wholesale energy market
June 1, 2022
The energy market is extremely volatile right now, with wholesale energy prices going up – impacting businesses across the UK and world.
With gas and electricity prices fluctuating by as much as 40% a year, we're seeing a level of instability that makes managing energy risk more crucial than ever. Proactive and strategic energy procurement and management is one way to get back some control and make energy a more fixed and controllable cost.
When it comes to implementing successful energy procurement strategies, Ignite is here to help. Our expert team has the solutions and expertise to help your business strategise and find the strongest position in the current wholesale energy market – keep reading to find out how.
A volatile wholesale energy market
Since August 2021, energy prices have continued to rise drastically. Usually, market movements are a result of temperature changes, gas and LNG supply, and fluctuations in renewable sources. However, geopolitical factors are currently adding a further level of complexity. The commercial energy price increases and general market volatility is down to many factors including:
The Ukraine/Russia War – while the UK does not depend on Russia for gas and oil, our link to international gas markets means we're impacted by the drop in supply. Russia is Europe's largest gas supplier and the world's second-largest oil producer, and so the drop in resources has led to elevated energy prices for gas, oil and, in turn, electricity.
Geopolitical situation – the war and the controversial Nordic Stream 2 (more detail below) has demonstrated how much of Europe depends on Russia for their energy supplies. With tensions rising, many countries could be losing energy due to them moving away from working with Russia.
Weather Conditions – 2021 saw an unseasonably cold winter, which resulted in more gas stores being used. Not only that, but it's been one of the least windy summers since the 1960s, so we've had less wind power to depend on. This has led to an increase in demand, and not enough supply.
Brexit – while Brexit has not played the most significant role, it may still cause future problems. When the UK left the EU, it also left the Internal Energy Market, where, as part of the Single Day Ahead Coupling (SDAC), energy was distributed across Europe to ensure no one had too much or too little supply. As the UK no longer benefits from this, energy flows are less efficient.
Tightening Market – a lack of supply and increase in demand has led to a tightening market. With a lack of inventory storage making it harder to find the energy the UK needs, energy prices are rising to new extremes.
Uncertainty surrounding Nord Stream 2 – as tensions surrounding Nord Stream 2 escalate, Germany pulling the plug on the project means more delays to the 110bn cubic metres of gas that it could deliver to Europe each year.
LNG supply – less Liquified Natural Gas (LNG) has been delivered to the UK than usual, due to high demand from Asia.
Impact of Coronavirus Pandemic – during lockdown periods, the UK saw a drop in energy demand. But recovery from Covid has continued, Britain has seen a surge in demand, which they've struggled to meet in supply.
With markets being more unpredictable than ever before, our experts are dedicating time to tracking the latest industry updates and trends. This way, we can provide the best solutions for your business at the right time, saving you money and protecting your business in ever changing market conditions.
What energy market volatility means for large businesses
A volatile wholesale gas and electricity market can present a number of challenges.
For one, it is much harder to set budgets when prices are harder to predict. It's now thought that the energy crisis will last years instead of months, with the uncertainty surrounding current events only making it more difficult to plan ahead. With bigger bills to pay, cash flow issues and many companies still recovering from the Covid pandemic, budgets will undoubtedly be stretched.
As a result businesses may divert money from other areas to cover their energy bills and pull back on capital projects. This includes energy saving and net zero projects. At Ignite, we firmly believe that energy efficiency projects are actually one of the most effective ways to deal with a volatile energy market beyond procurement. The projects we co-ordinate and rollout will start reducing your consumption in very short time frames and will continue to do so long into the future. The money you save could counteract price increases.
Market Outlook
Back in March 2020, we saw a winter power price of £42/MWh. However, this has now risen to over £170/MWh – and it's continued to rise ever since. And, as we mentioned earlier, it seems that the current price hikes are unlikely to fall anytime soon.
Looking forward is crucial to protecting your business against market volatility. What adds to this uncertainty is that we're dealing with more global supply and demand factors, making it harder to know what to expect. Businesses will need to keep their finger on the pulse, paying close attention to the market in order to prepare.
Ignite provide daily, weekly and monthly reports for the UK, plus monthly reports for the European market overall. These reports go into detail about where our expert analysts expect the market to move, so you can gain a clearer picture of any fluctuations and prepare accordingly.
We're also the only third party intermediary (TPI) to send a quarterly newsletter on non- commodity costs – making up 60% of most energy invoices. We care about keeping our customers informed of the latest industry updates, so you can make the right decisions when planning your energy saving strategies.
How to deal with commercial business energy price hikes
There are many ways you can protect your business from a volatile wholesale energy market, starting with monitoring and forecasting the current market. Like we've pointed out, keeping an eye on current trends and developments will help you get to grips with the energy market, forecast and budget effectively, and of course, save money.
However, saving money is not all that matters when it comes to navigating the energy crisis. While Net Zero strategies are potentially being placed on the backburner as the UK deals with price increases, we're at risk of falling behind on essential action.
Energy Procurement Strategy and End to End Procurement service
Energy procurement is the obvious starting point. When managed correctly, you can have peace of mind that you've secured energy in line with your budget and appetite for risk, providing business security in a time of fluctuation and uncertainty.
Here at Ignite, we understand that not one size fits all. That's why we take an end-to-end approach that's personalised to your requirements. A good energy purchasing strategy means securing energy at the right price with terms that suit you – and that is exactly what the Ignite team provides.
We can also help you take steps towards your net zero goals, procuring green energy to ensure that your business takes steps toward carbon neutrality and makes a genuine difference.
Our commercial energy procurement services include the following:
Fixed and flexible energy procurement agreements in the UK and Europe
Water procurement
Both hedging and trading strategies
Corporate Power Purchase Agreements
Energy Risk Management strategies
Analysis of European markets
Budget setting and planning
Optimisation of contracts and tariffs
Comprehensive portfolio reports
Non-commodity related analysis of utility bills
Management of triad
Carefully-managed energy procurement
We see ourselves as an extension of your team, priding ourselves on exceptional customer service. We're with you every step of the way, helping you with your sustainability strategies to reach your net zero goals while saving money for your business. Get in touch to find out more.
Manage Energy Procurement Risk & Energy Market Risk
Managing energy procurement for risk is a crucial part of any worthwhile service. To save your business money, stay protected during market volatility and become more energy efficient, you need to strike the right deal at the right time.
Here at Ignite, we pride ourselves on the relationships we have with our customers. We pay attention to your attitude to risk, tailoring our energy sourcing strategies to match your needs.
A good energy risk management service requires:
Knowing when to strike, identifying the right balance between risk and reward
A thorough understanding of energy contracts
Powerful negotiators
Being fully aware of of compliance legislation
Strong relationships contractors and suppliers
You should also expect a friendly, transparent service that makes energy procurement clear and simple. Our experts take the time to talk you through our data and next steps, so rather than being presented with jargon-filled reports, you'll receive a clear picture of the opportunities at hand.
Maximise use of fixed and flexible energy contracts
At Ignite, we have decades of experience with commercial energy procurement. Our team has the experience and expertise to find the right type of contract for your business. We can provide both fixed term contracts or flexible energy contracts.
Fixed Term Energy Contracts
If you prioritise budget certainty, then a fixed term energy contract is right for you. Fixed term contracts provide security when planning for the financial year, as you're aware of the costs of the next budget period.
Energy rates can be controlled with fixed rate contracts, a simpler option that'll last for up to five years. These contracts also reduce risk to capital. Our experts carefully consider which items are fixed within your contract while scaling suppliers for the value of their service, ensuring that you experience financial stability during wholesale energy market volatility.
Flexible Energy Procurement
Ignite also provides a flexible energy procurement service, where our expert team monitors the wholesale commodity market and purchases energy directly. We'll advise you on the best times to procure energy, allowing you to spend as much or as little as you'd like while maintaining budget certainty.
This less restrictive strategy allows you to capitalise on the energy market, rather than running away from it. With a flexible energy procurement contract, you are in full control. We'll have regular calls with you to guide you as the market moves, so you can gauge each opportunity based on your risk appetite.
As with our fixed price tenders, we evaluate all suppliers who we feel are best suited to your business. We look at the cost of a contract as well as its flexibility and levels of customer service. Our team utilises the best hedging and trading strategies that keeps your business safe from high market volatility and price hikes.
Couple this with our market insights, and you'll have a personalised energy strategy that saves you money and contributes towards your net zero goals. We aim to make the process as simple as you would like it to be, keeping your interests in mind.
Renewable Energy Procurement
Renewable Energy procurement is not just about saving money, it also represents a fantastic opportunity to limit your impact on the environment. At Ignite, we work with a wide range of suppliers, discussing their own renewable energy projects as well as offsetting methods, finding the right renewable energy contract for you.
Corporate Power Purchase Agreements (CPPA) offer your business a flexible renewable energy contract where you and the supplier can fix the price of energy for a specific time period. CPPAs, sometimes known as PPAs, allow businesses to purchase renewable energy directly from the source.
These types of strategies have grown popular as they provide fixed energy costs for anywhere between five and twenty years. CPPAs give you more control over the type of contract you'd prefer, so you can easily budget for the years to come.
CPPAs offer longer certainty than traditional fixed contracts. Our experts simplify the setup process and find the right renewable energy supplier for your business. CPPAs provide a fantastic opportunity to earn deeper green energy, and we'll help you make the most of it, ensuring that you're making a true impact on the environment.
We can also explore the potential of going that step further with CPPAs to actually add new renewable capacity to the grid.
Understanding your energy consumption
Rather than focusing on securing cheaper energy in isolation, you should also look to improve energy efficiency to reduce consumption. You cannot become energy efficient if you're unaware of how business energy is being used. Ignite conducts thorough energy audits and install submeters if required to provide you with all the insights you need to identify areas of improvement across your estate. We take a year's worth of data to review energy usage and develop detailed reports that contain relevant information presented in a jargon-free way.
Our energy audit process includes:
Identifying sites that consume high amounts of energy
Identifying energy usage trends
Ranking sites across your estate in order of energy efficiency
Identifying energy wastage
Analysing occupied and unoccupied consumption
We take the time to get to know you and your business goals, motivations and how much risk your business is willing to take. Keeping your targets in mind, we'll use our data findings to help you strategise next steps.
Energy market analysis: insights into the wholesale energy market and forecasting
Our expert team always keeps their finger on the pulse. We monitor global energy markets, assessing costs to determine which would be best for you. You'll receive a bespoke energy procurement strategy that keeps your business needs and plans in mind, with our experts on hand to help with forecasting.
With years of experience in UK and Europe markets, we have the extensive knowledge to guide you through your energy-saving strategy. We rely on real-time insights and track all relevant suppliers and commodities, keeping you informed every step of the way. This information means that we can provide flexible energy procurement services. Our expertise means that we're best placed to advise you as the market shifts, and you can depend solely on us to provide a quality flexible procurement contract.
Energy efficiency projects in a volatile market
Businesses benefit from significant savings when implementing our bespoke large scale energy efficiency projects. These projects include identifying and reducing areas of high energy wastage, saving money as soon as improvements are made. The savings generated by energy efficiency projects then offset any sudden increases in energy costs.
Ignite can work across your estate to become energy efficient, saving your business money and helping protect from any unexpected price hikes. Our clients have seen the differences energy saving projects have made, reaping results across their estates. But that does not mean that all our projects are the same – Ignite takes the time to get to know you and your business goals, rolling out tailored projects that deliver the results you need.
Our energy efficiency projects include:
Submeter installation
Large-scale LED lighting controls and improvements
Technological upgrades across your estate
These projects may feel like a big capital investment in the current circumstances, but the money invested in new and improved energy efficiency measures will soon offset these higher energy prices.
Our expert team will continue to work with you following project rollouts. As part of our ongoing energy management service, we'll monitor your energy usage across your estate and compile our findings into our simple reports. You'll be able to see the results of your energy efficiency projects, and we'll help you strategise next steps to reach your business goals.
Don't stop there – other ways to reduce energy costs with Ignite
Energy procurement is just one aspect of our end-to-end energy management service. From energy efficiency projects to a comprehensive compliance offering, Ignite offers a range of services designed to transform energy within your business.
Our services include:
Energy audits – our experts will collect and analyse a year's worth of data to identify energy usage trends, wastage and consumption across your business estate. From here, we'll work with you to find opportunities for improvement, using your audit as the basis for a variety of energy saving projects.
Reduce consumption – we'll work with your business to reduce energy consumption throughout new and existing commercial buildings, taking a data-driven approach into energy management and rolling out energy efficiency projects.
Data analysis – we collect and validate relevant data to help you and your team gain  a full understanding of your business energy consumption. a wealth of opportunities to improve energy efficiency across your estate. Our experts have the experience to collect the right sort of data and identify key areas of improvement, presenting the information in a jargon-free way.
Zero Cap ex – if your business doesn't have the capital expenditure ready to spend, you don't need to wait to improve energy efficiency. Ignite can work with employees across your estate to boost employee engagement, ensuring everyone is on board with your carbon neutrality strategies. With stakeholders and managers involved, your business can reduce consumption with the help of key employees.
Bill Validation – an important step in reducing energy costs is to make sure that your business is only paying for the energy you're using. As part of our energy bureau services, we'll help you keep your bills in order and provide account summaries and reports, so you'll know exactly what you're paying for.
Partner with Ignite Today
Here at Ignite, we put your business first. That means we provide a transparent, quality service that improves your business' sustainability by implementing cost-cutting solutions. If you'd like to find out more about our energy-saving services, contact us today by calling 0333 023 2222 or send an email to: enquiries@igniteenergy.co.uk