"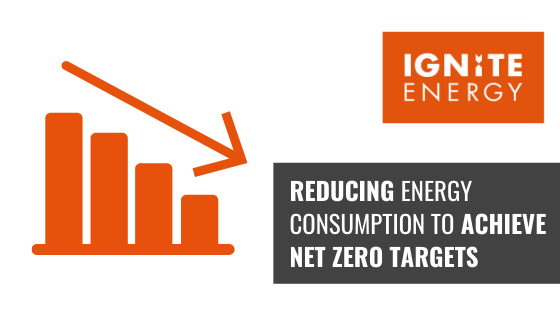 Reducing energy consumption to achieve Net Zero targets
July 14, 2021
Net Zero is a hot topic at the moment and with good reason. The urgent need to take meaningful action to avoid catastrophic climate change is becoming a priority for governments and enterprises alike.
Many larger businesses are already strategising around carbon net zero – setting targets, procuring renewable energy, and offsetting carbon. These are all essential steps toward carbon neutrality, but more transformational action needs to be taken now. Ignite are here to actively help you achieve your net zero targets.
At Ignite, we specialise in reducing energy consumption via end-to-end energy management for large multi-site businesses. This includes data analysis, custom reporting, tailored energy efficiency projects, and a long-term collaborative partnership.
Reducing consumption with energy data analysis
Without data-informed decision-making, carbon neutrality is an impossibility.
That's why Ignite take a data-driven approach to energy management and our net zero services.
Our expert team starts by analysing energy consumption across your entire estate. If your portfolio is large with numerous and various types of buildings, then you need data on each site.
For an idea of what we can do, read about our commercial energy audits.
With years of experience across many industries, our team can complete the following:
Data collection, validation, monitoring and analysis
Energy audits to identify waste & inefficiencies across your portfolio, including identifying best and worst performing sites
Analysis and reporting (including compliant carbon reporting e.g. SECR)
Understanding what carbon emission you're responsible for
Making sure any Net Zero Targets are meaningful and science-based
Controlling energy efficiency to meet net zero targets  (install control systems / optimise existing BMS)
Ignite's data analysis highlights consumption issues and efficiency improvements as quickly as possible. It also helps us identify energy-saving opportunities, relevant energy efficiency projects, and set budgets.
We also put this data in your hands so you can easily track your performance against net zero and cost cutting targets. Our approach is always transparent and empowering. Your team has access to custom dashboards that report on the metrics that matter most to you, and are most relevant to your net zero work.
Energy Efficiency projects for net zero success
When it comes to effective energy efficiency solutions, we take a holistic end to end approach. Our proactive energy management will improve efficiency across your entire estate. Central to this is rolling out various projects designed to cut consumption. These can focus on the following areas:
LED BULBS AND LIGHTING CONTROLS
VENTILATION AND AIR CONDITIONING
REFRIGERATION
INSTALLATION OF BEMS/BMS
Some projects focus on utilising the latest technologies such as LED lighting to reduce consumption. When rolled out across an entire estate, the savings and cuts to carbon emissions are significant. Ignite has a proven track record when it comes to large scale multi-site LED lighting rollouts. Our experience and success in retrofit energy projects is second to none.
Ignite pride ourselves on fully understanding your business needs and challenges. We acknowledge the need to meet your budget and performance targets alongside carbon reduction targets. Often our close relationships with customers result in us identifying bespoke solutions.
Take Pets at Home for example. We worked with them to develop temperature control technology to ensure all animals were kept within a temperature range that reflects current welfare guidelines. Any variance in temperature was immediately reported via a text message to store managers so it could be rectified quickly, delivering benefits above and beyond energy savings.
Across all types of buildings, we've been able to identify energy efficiency measures to help businesses meet sustainability goals. We also understand the importance of compliance, in particular around carbon reporting and net zero targets. We helped New Look become the first global fashion retailer to achieve both the Carbon Neutral Gold Standard and UN Climate Neutral Now Participation. You can find out more about our net zero service for large businesses here.
How to reduce energy consumption in Existing Commercial Buildings
Buildings contribute to a significant amount of carbon emissions. And although there is sustained effort in making new buildings net zero, older buildings need to be a focus. Many are still going to be around in 2050 and beyond after all. At Ignite, we focus on remedial work and tailored retrofit projects that utilise the latest tech to reduce energy consumption in buildings already in your portfolio. Our aim is to future-proof them.
From high street shops to leisure centres and gyms, coffee shops to commercial buildings, Ignite facilitates retrofit energy efficiency projects to help large businesses achieve carbon net zero.
These projects are tailored to your needs and the sites in your portfolio. There is not a one-size-fits-all energy efficiency solution. So we look to combat energy waste and inefficiencies on a site-by-site basis, identifying the right projects for the right sites.
Employee Engagement
When it comes to sustainability, it is often overlooked how important it is to take a proactive and engagement-focused approach to carbon targets. Our work aims to actively engage all levels of your business with the shared mission to reduce consumption and cut emissions.
At Ignite, we like to inspire cultural change, a shift in mindset at all levels of your business. From engaging the board with the fiscal implications to individual managers and their teams, Ignite have experience in kick-starting transformational change. Sharing data and relevant targets is a great way to do this.
BMS monitoring & optimisation
Building Management Systems (BMS) allow energy managers to monitor and control energy wastage across your entire portfolio. It forms a vital part of any net zero strategy. Ignite can work with existing Building Management Systems but it makes sense to upgrade to the latest BMS in some instances. Outdated building management systems don't offer sufficient control and visibility and make optimisation very difficult.
At Ignite, we install, enhance and utilise fully-customised BMS for enhanced control, proactive energy management and helping achieve Net Zero targets. BMS gives your energy team the ability to view, control and optimise on-site assets such as:
Air Conditioning
Lighting
Heating
We work closely with your energy team to make sure the BMS provides the data and control that is most relevant to you and your sustainability targets.
BMS provide complete control over every site, right down to specific air conditioning and heating units within a location. You can make proactive energy efficiency changes to onsite equipment at the click of a button. They allow you to remotely control everything from air conditioning to lighting, signage to heating, changing parameters effortlessly. This responsiveness is a real asset in making net zero a reality. BMS helps reduce energy consumption dramatically. Ignite's work over the last 18 months has saved approximately 17,800 Tonnes of CO2. This equates to the annual consumption of about 2200 average UK homes.
Ignite Energy – Your Net Zero partner
It is essential that we closely monitor the impact of any energy efficiency projects and implementations to make sure consumption is being reduced in line with your targets. Our commitment means we'll be by your side when it comes to shaping and adapting your net zero strategy over the years. And when any new compliance comes in, you'll have complete peace of mind that we have it covered. At Ignite, our focus is always on the future, and taking a proactive approach to achieving your business goals. And all of this is underpinned with outstanding customer service.
If you are serious about achieving carbon net zero then contact our team at Ignite today. We can discuss the next steps on your journey and how our expert team can make your targets a reality.
Speak to us on 0333 023 2222 or email us at enquiries@igniteenergy.co.uk.