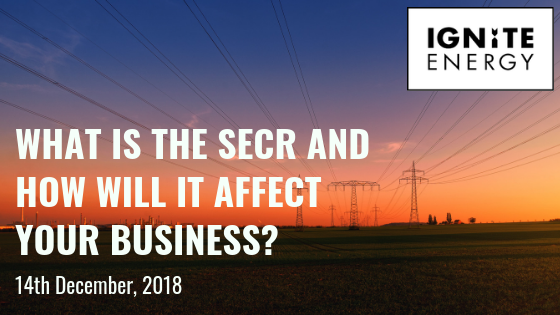 What is the SECR and how will it affect your business?
December 14, 2018
At Ignite Energy we help businesses all over the UK to save on their energy spend. We also help our clients to remain compliant with UK energy reporting laws. From April 2019, new Streamlined Energy and Carbon Reporting Regulations take effect.
Read our SECR guide now to learn all about the new energy reporting regulations that might affect your business.
What is SECR?
Streamlined Energy and Carbon Reporting (SECR) is the carbon reporting scheme that replaces the Carbon Reduction Commitment (CRC). It is a new mandatory reporting framework for all large UK businesses and is imposed by the UK government.
SECR will not replace the income that government derives from CRC presently, this is being achieved by an increase in the Climate Change Levy (CCL) from 1st April 2019. Organisations need to be prudent when looking at energy budgets from this point onwards, as although the change from CRC to increased CCL is intended to be revenue-neutral for the government, it can cause some large differences at an individual organisation level.
SECR is aimed at streamlining and simplifying reporting for energy and carbon for large UK businesses. It will also broaden the scope for compliance, meaning more companies will now need to comply with energy and carbon reporting legislation.
Does my company need to comply with the SECR?
All qualifying companies in the UK will need to comply with SECR. This includes businesses that have an annual energy consumption of more than 40,000 kWh's
SECR affects any companies that have UK registered businesses and meet two of the following criteria in the financial year that they are reporting in:
More than 250 employees
£36m or more turnover
Balance sheet total of more than £18m
Is my company exempt from the SECR?
If you are a small business with only a few properties you are probably exempt from the SECR. According to official government guidelines, companies using 40,000 kWh or less of energy in the 12-month reporting period will be exempt.
What will your business need to report?
Companies will need to report global scope 1 and 2 emissions and an intensity metric. The intensity metric is not specified however they will need to report emissions as a ratio of at least one other factor of their businesses activities, such as turnover or employee numbers.
Eligible companies registered in the UK will continue to be required to report on global energy use and carbon emissions.
Companies will also be required to report what energy efficiency actions they have taken over the previous year.
How to report for SECR
Qualifying companies will be required to report in their annual Directors' Report or equivalent in financial years from 1st April 2019.
How will the SECR impact my business?
How SECR will affect your business depends on your current reporting situation.
If you have to report under CRC, SECR will replace this. You will be required to report in your annual Directors report in-line with the end of your businesses own financial year.
If you report under Mandatory Carbon Reporting (for public companies), you will need to add reporting of energy consumption and efficiency measures you have implemented in the past 12 months.
Most businesses that have to comply with ESOS are likely to be included under SECR. This will affect more than 10,000 UK companies, up from around 1,600 currently reporting under Mandatory Carbon Reporting.
How can Ignite Energy help?
We can help you to understand the SECR and the impact it will have on your business. We have experience in managing compliance for large organisations and can help you to comply with SECR. We look after Mandatory Carbon Reporting (GHG) and ESOS for many of our customers and have managed CRC for our customers from its inception to the coming closure of the scheme.
At Ignite Energy, we specialise in solving our clients' energy challenges. Working with some of the UK's largest organisations, we have considerable experience in CRC compliance including emissions reporting, carbon allowances and helping to decrease emissions to reduce costs under the CRC. As a result, we are ideally placed to give advice on how SECR regulations will affect your business and how best to report.
For more information regarding the SECR regulations, please contact us today.