"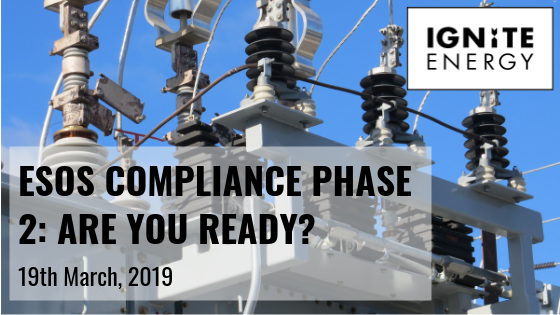 ESOS compliance phase 2: Are you ready?
March 19, 2019
Ignite Energy has helped many UK businesses comply with ESOS phase 1. Are you ready for ESOS phase 2?
In this guide, we set out industry expert level ESOS guidance that will help you through the process of becoming ESOS phase 2 compliant.
ESOS definition: what is ESOS?
ESOS (Energy Saving Opportunity Scheme) is legislation created by the Environment Agency. It requires large businesses to audit their energy consumption and identify potential opportunities to reduce their usage. ESOS involves obligatory energy assessment schemes for organisations and large enterprises in the UK.
Who qualifies for ESOS?
The energy-saving scheme applies to large companies in the UK that meet the qualification criteria. This includes any UK company that:
employs 250 or more people
Has an annual turnover in excess of 50 million euros and an annual balance sheet of over 43 million euros
Overseas companies with a UK registered establishment that employs more than 250 UK employees can also qualify
If your organisation qualifies for ESOS, an ESOS assessment will happen every four years. This will audit the energy use of your industrial processes, buildings and transport to identify worthwhile energy-saving measures
Did you qualify for the first compliance period but didn't know? Contact the Environment Agency to find out.
What does my business need to do to be ESOS compliant?
At Ignite Energy, we can help your business become ESOS compliant. We will carry out an ESOS compliant energy audit that will ensure you're compliant with Phase 2. This service includes the below:
Audit based on 12 months of verifiable consumption data
Analysis of energy consumption and energy efficiency
Identification of potential energy savings opportunities
Site visits to identify potential opportunities
Submission of ESOS notification of compliance
At Ignite Energy we have ESOS lead assessors who are able to sign off this assessment for submission.
ESOS phase 2 dates
If your business qualifies for ESOS, the deadline for notifying the environment agency that you are compliant is 5th December 2019.
ESOS fines
Non-compliance can lead to fines ranging between £5,000 and £90,000 depending on the nature of the penalty. Businesses that are not compliant may also be named which can be extremely damaging for a company's reputation.
Why choose Ignite Energy
At Ignite, we're fully conversant with the requirements of ESOS. We have created audits and reports for most of our clients through ESOS phase 1. Our certified lead auditors are able to deliver all the requirements of the ESOS scheme internally.
Our phase 1 ESOS reports led to millions of pounds of investment in the identified energy efficiency projects, delivering paybacks of typically less than 3 years.
"Through ESOS Phase 1, Ignite helped us to identify opportunities that led to projects which achieved millions of pounds in energy savings. ESOS has proved to be the catalyst for a fundamental shift in the business towards better energy efficiency" James Kokiet, Pets at Home Energy Manager.
Contact us today and find out more about how our industry expert ESOS compliance services could help your business.