"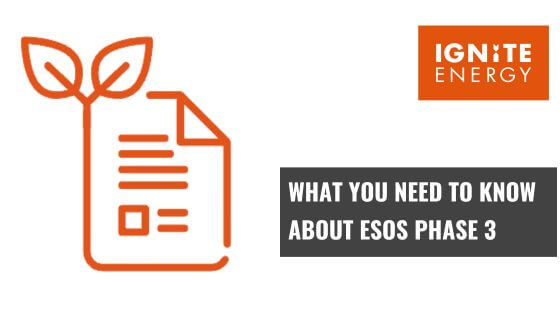 ESOS Phase 3: what you need to know as the deadline nears
June 26, 2023
We're now in the final stage of the Energy Savings Opportunity Scheme (ESOS) – Phase 3. With the deadline for ESOS Phase 3 fast approaching, you should already be collating data and thinking about reports ready for submission.
Whether you've qualified for ESOS for the first time, or have already completed Phases 1 and 2, Ignite is here to help. Our exergy experts provide the support you need to comply with ESOS Phase 3, having helped UK businesses through previous phases while staying up to date with the latest changes.
If you're not feeling too confident about your ESOS compliance, read our guide below.
What is ESOS Phase 3?
ESOS Phase 3 is the third phase of the Energy Savings Opportunity Scheme (ESOS). Created by the Environment Agency in 2014, it's a mandatory regulation in the UK if you meet the ESOS Phase 3 requirements. It was introduced to encourage large businesses to reduce energy consumption across all areas of their business, including supply chains and business travel. Read more about ESOS compliance.
It involves carrying out audits and identifying opportunities for energy reductions throughout your estate, reporting on your findings and using it as a basis for an energy efficiency strategy.
ESOS has four phases. Phases 1 and 2 were completed in 2015 and 2019 respectively, and Phase 4 will begin in 2026.
ESOS Phase 3 deadline and dates
The ESOS Phase 3 deadline is now 5th June 2024 – a change from the original deadline, 5th December 2023. This is known as the reporting deadline which means that, if you comply, you should already be compiling reports ready for submission.
The ESOS Phase 3 qualification date was 31st December 2022. If your business was in scope at this time, then you must comply with ESOS Phase 3 or else pay fines. The time between these two dates (including the qualification and deadline dates) is known as the referencing period. Your reports need to include data from this period for all business activity.
With only six months left until the ESOS Phase 3 deadline, qualified businesses should already be somewhere down the line with reporting and data collection but do not panic if not. It's never too late to get started with your ESOS Phase 3 reporting, especially if you already have the data at hand. Just keep in mind that the sooner you start, the better your chances are of complying.
ESOS Phase 3 scope
If your business was classed as a 'large undertaking' as of the qualification date, then you're within the ESOS Phase 3 scope.
A large undertaking is defined as a business with:
250 or more employees
Annual turnover of £44 mil
Annual balance sheet in total excess of £38 million
If you qualified for Phase 2 but not for Phase 3, then you need to submit a 'Did not qualify' (DNQ). This can be done through the ESOS reporting portal.
What are the ESOS Phase 3 requirements?
So, what are the rules for ESOS Phase 3? You can read the full list of ESOS Phase 3 requirements over on the government website, but we've broken them down here:
Firstly, you need to record energy consumption throughout the reference period. This is done through energy audits and includes everything from utilities to transport and manufacturing.
Highlight areas of significant energy consumption as part of your report. This applies to your total business energy consumption, minus your 'de minimis', which stands for 5% of your consumption. The remaining 95% of your total is your significant consumption.
You can leave your de minimis out of your total if you feel that you're unable to reduce energy in this area, such as carbon from travel, or you can ignore your de minimis if it makes reporting easier. The de minimis total used to be 10% rather than 5%, but this was reduced as part of the ESOS Phase 3 changes made in 2023. You can read more about these later in this guide.
Include an analysis of data and how you can improve.
Have a lead assessor check your ESOS report – there are only so many lead assessors available in the UK so best to submit your report sooner rather than later, especially as the ESOS Phase 3 deadline nears. You can see a list of ESOS assessors here.
ESOS Phase 3 changes
In 2023, the UK government made changes to both ESOS Phase 3 & 4. While these are small, subtle changes, it's still important to understand what the new requirements are and how they affect your reports.
The ESOS Phase 3 changes include:
Reducing the de mimis to 5%, as mentioned above.
Including information on next steps following your ESOS report – how are you going to reduce consumption and implement changes based on your Phase 3 data?
You also need to set a target and create an energy strategy following the Phase 3 deadline. Progress of this strategy should be reported each year as part of SECR.
More importantly, the deadline for ESOS Phase 3 was extended until 5th June 2024.
Why is ESOS important?
ESOS seems like another set of compliance to add to the list, but it's much more than that. You should think of ESOS as an opportunity – an investment in your business and net zero.
Many businesses tend to fill out each ESOS phase and file reports away for another year, leaving identified opportunities to gather dust. Your report makes clear where savings can be made throughout your business, as well as targets and the steps needed to get there, as part of the ESOS Phase 3 changes 2023. In today's climate, large businesses must take environmental action while mitigating high energy costs, and ESOS is a great starting point.
The energy saving opportunity scheme was designed to incentivise businesses to think about sustainability and how they can become energy efficient. ESOS Phase 3 will benefit your business in all areas – saving costs, energy, and reducing your carbon footprint – but only if you act on it. Maximising your ESOS compliance and using it as a basis for your strategy means taking steps towards sustainability and making a real difference for our planet.
ESOS Phase 3 compliance
As part of our end-to-end service, Ignite's ESOS services ensure you make the most of your Phase 3 report. Having helped businesses through Phases 1 and 2, we have a thorough understanding of the ESOS Phase 3 criteria and can ensure that your business becomes compliant while meeting sustainability goals.
We look at your entire portfolio, including individual sites, emissions from supply chains and business transport. Our expert team conducts site visits for ESOS Phase 3 audits before analysing data to work out your total consumption. We'll also identify under-performing areas and put a plan in place following our findings, reducing your overall energy costs.
Find out more about our energy management offerings below, or read more about our ESOS compliance services.
Ignite's compliance services
As well as ESOS, Ignite offers wider compliance services, including SECR and GHG reporting. We make sure that you're compliant across a range of carbon legislations, helping with data collection and analysis, as well as acting on your strategy once reports are filed. Carbon reporting is a key part of any net zero strategy and we're here to get you through those piles of forms and really transform your business.
Sometimes, it can be hard to understand what exactly is required when submitting ESOS or any other compliance report, and it can feel even harder when that compliance changes. That's why we've made it our job to stay on top of the energy market, familiarising ourselves with any new regulations to ensure nothing is missed in your compliance reports. We see reporting as a way to enhance sustainability strategies and save energy across your estate, and so our data collection methods are thorough and intricate, leaving no stone unturned.
Once we've collated our findings, we'll present them to you in a comprehensive manner, helping you understand the current circumstances of your estate and translating them into compliance reporting requirements.
From here, when all reports are submitted, you can stay compliant while meeting your energy targets. Find out more about our energy compliance services.
ESOS & Net Zero
ESOS is a stepping stone to net zero. The scheme helps you create a strategy and set targets for both sustainability and energy consumption. Partnering with Ignite means bringing your strategy to life.
Whether you've already set a net zero target or ESOS has inspired you to take action, you need to ensure that your strategy is achievable and led by the right data. Your ESOS Phase 3 audits feed directly into our strategy, with our intricate data collection methods highlighting areas of improvement. We'll work with you to set achievable targets that generate savings in the long run and impact all areas of your business.
Our net zero services include:
Once we've helped you with your ESOS Phase 3 compliance, Ignite will action your strategy and further your net zero journey. Learn more about our net zero services.
ESOS Phase 3: next steps
Thinking of ESOS Phase 3 as just another compliance task means that your business doesn't get to experience its benefits. It should be seen as an opportunity to make a difference – a chance to really invest in sustainability.
Ignite can help you become fully engaged with ESOS and act on your findings from Phase 3. We offer complete energy management services that improve both your energy efficiency and green credentials. Our data-led approach provides in-depth insights, highlighting underperforming areas which we'll work to improve. We track your progress as we go, ensuring you're always meeting targets and building upon your successes year on year.
Our strategies are designed with your best interests in mind. Once we've immersed ourselves in your business, our work is aligned with your goals so you always see the results that matter most.
ESOS guidance from Ignite
Here at Ignite, our energy experts have the experience and expertise needed to help you with your ESOS Phase 3 compliance. With our full end-to-end management services, we'll assist you in all areas of ESOS and ensure you experience the benefits, transforming all levels of your business.
We're not just your energy managers – we're your energy partner, joining you on your net zero journey while minimising costs across the board. To find out more about our ESOS compliance services, or how else we can help your business, get in touch with our experts today.