"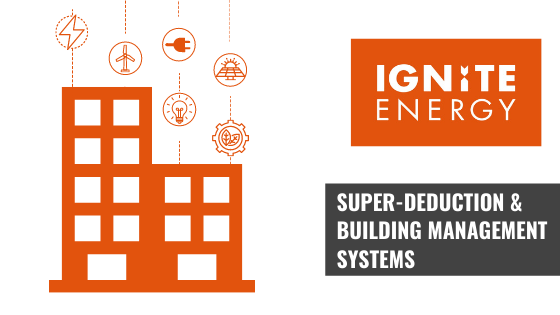 Super-deduction & Building Management Systems: an amazing opportunity for proactive energy management
April 14, 2021
In March 2021, Rishi Sunak announced Super-deduction measures as part of his budget. This new tax policy means that businesses can deduct 130% of their tax bill on capital expenditure on things such as plant, machinery and efficiency work. Most significantly the installation of Building Management Systems (BMS) is eligible for this Super-deduction tax break. This represents an amazing opportunity for large companies to upgrade their BMS, and get the insights they need to reduce energy costs and move towards a more sustainable future.
Ignite are excited to help businesses seize this opportunity. We are experienced at rolling out BMS upgrades to multi-site organisations and unlocking data to inspire transformational change.
BMS offers businesses:
Wider control and visibility on energy usage across their entire estate
Powerful data insights
A data-focussed approach to achieving Net Zero goals with less financial impact
What is Super-deduction?
Super-deduction is a policy announced by Rishi Sunak in the March 2021 budget. It is effectively a tax break intended to get companies that are currently sat on cash to invest. The government hopes the scheme will incentivise businesses to make additional investments and increase spending, resulting in a productivity boost.
Under the Super-deduction, for every pound a company invests in qualifying plant and machinery including BMS, their taxes are cut by up to 25p. It covers investments incurred from 1 April 2021 until the end of March 2023, and offers 130% first-year relief on qualifying investments up to a £1 million threshold.
What qualifies for Super Deduction?
The following assets are examples of what qualifies for the Super-deduction capital allowance:
Solar panels
Computer equipment and servers
Building Management Systems / Building Energy Management Systems
Office chairs and desks,
Electric vehicle charge points
Refrigeration units
Compressors
Super-deduction Example
In order to understand the Super-deduction scheme, here's an example.
Your company spends £1m on upgrading your BMS and decides to claim the Super-deduction.  Having spent £1m on qualifying investments, your company can deduct £1.3m (130% of the initial investment) when working out your taxable profits. Deducting £1.3m from taxable profits will save your company up to 19% of that – or £247,000 – on your corporation tax bill.
Ignite and the power of Building Management Systems
Ignite install, enhance and utilise fully-customised BMS/Building Energy Management Systems (BEMS) for enhanced control and proactive energy data management. The upgrade and installation of any new BMS is a project covered by the Super-deduction and would include the supply and installation of BMS.
Many large multi-site organisations are sitting on out-dated building management systems. These systems offer less control, less visibility, and are often not fit for purpose given changes in-store and on site. With energy reporting, compliance, and Net Zero targets all a priority, having the latest BMS is essential.
BMS gives your energy team the ability to view, control and optimise on-site assets such as Air Conditioning, Lighting and Heating along with a whole range of other data. The initial cost of a roll out of new BMS at scale can be high but the cost savings make it a worthwhile investment. The Super-deduction means now is the best time to act.
By working closely with you, we will make sure that the BMS provides the data and control that is most relevant to you. We give you ownership of the metrics that matter via custom dashboards. These can include information on a national and regional level, right down to the status of specific air conditioning and heating units within a store. When you have this level of control at your fingertips, you can see how Building Management Systems are crucial to cost cutting and energy efficiency measures.
Energy managers can carry out their own energy data analysis with customised dashboards that show you exactly how your estate is consuming energy. By partnering with Ignite, our experts run reports and analyse your data, gaining valuable insights into your energy consumption. This feeds into actions you can execute via the BMS as well as forecasting, procurement strategies and energy efficiency projects.
Find out more about our fully customised BMS dashboard and the benefits it delivers.
Sustainability
BMS is a great way to monitor and control energy wastage across your entire estate. It is therefore an essential part of any net zero strategy. These systems give you complete control over every site with the ability to make changes to onsite equipment at the click of a button. You can remotely control everything from air conditioning to lighting, signage to heating, changing parameters effortlessly. It can also help with identifying any equipment failure, so that you can send out engineers to quickly fix issues and only when necessary.
If your analysis of consumption data reveals an energy efficiency issue, BMS allows you to see what's happening on site and take immediate action. This responsiveness is a real asset for the proactive sustainability-focused energy manager.  For example, you can decide to introduce an estate-wide rule to only cool a site with air-conditioning when temperatures exceed 24 degrees. This can help reduce energy consumption dramatically. Similarly, you can switch off lighting after a certain time of day, having the ability to quickly change this depending on office hours or opening times.
Ignite provide data analysis around energy efficiency. This highlights efficiency improvements as quickly as possible and helps us identify energy saving opportunities, relevant energy efficiency projects, set budgets and be aware of any consumption issues immediately. BMS then allows you to action recommendations effortlessly.
By collecting and analysing site data you can also see which sites are underperforming and take proactive steps to remedy this. The level of data you can get from BMS is a powerful tool in stamping out energy wastage.
Our work over the last 18 months has saved approximately 17,800 Tonnes of CO2, which equates to the annual consumption of about 2200 average UK homes.
Find out about our full range of net zero energy services and how we can help you achieve targets.
Cost Cutting
Installing the latest BMS as part of the Super-deduction scheme will give you the visibility and control to proactively reduce your energy usage and cut costs.
We know just how important it is for energy managers to have remote access to equipment across their estate and be able to act on energy data insights.
When BMS is used alongside data analysis, it is a powerful cost-cutting tool. You can make decisions around equipment functions on a site-specific or estate-wide level.
Ignite provide bespoke reports that allow you to make your estate more controlled and cut costs. These reports can provide insights into areas of wastage, worst-performing sites, as well as more granular depending on your unique needs. Once you have a list of actions, BMS can make it a reality  –  either on a site by site basis or estate-wide.
Speak to Ignite about BMS and Super Deduction
At Ignite, our experience with large scale energy efficiency projects and BMS upgrades means we're the ideal partner. Start investing in a sustainable future with Ignite by your side. With exceptional customer service, we'll help you take control of your energy data across your entire estate, save money and achieve transformational change.
If you want to discuss how we can work together in more detail contact us today.
Speak to us on 0333 023 2222 or email us at enquiries@igniteenergy.co.uk.