"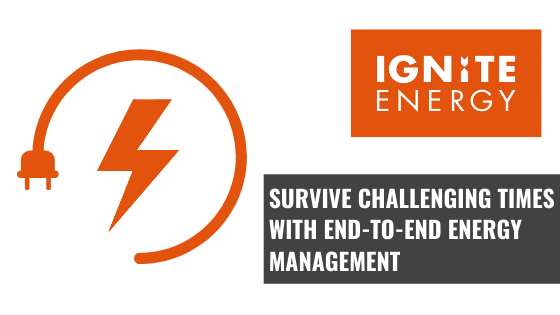 How Ignite's end-to-end energy management can help you survive & thrive in challenging times
March 12, 2021
UK businesses face considerable uncertainty right now. Challenges have multiplied: with businesses having to adapt due to the pandemic, navigate the repercussions of Brexit, embark on digital transformation to compete with disruptive companies and attempt to meet ambitious sustainability goals. 
In the midst of economic turmoil, it is important to take back control where you can and start saving money. Ignite's end-to-end energy management service is a guaranteed way to start saving money now and into the future, especially when capital is limited. Our approach is based on trust, outstanding customer service and years of experience working with the UK's largest companies.
Helping your business survive and thrive
Ignite's end-to-end energy management service is a surefire way to save money immediately and long into the future. And the sooner you start saving, the more money you'll save. It seems an obvious point, but it's worth stating as delays are costly. 
Energy is one of your largest costs as a business. Our total energy solution focuses on reducing both your energy consumption and costs. It is built on exceptional customer service and delivering outstanding levels of support to complex multi-site businesses.
Ignite offer ongoing day-to-day support and expertise. This way we can make sure that energy management becomes an operational norm, not just a one-off project. 
It covers the following areas:
Energy Procurement

Data – collection & analysis

Bill validation – historic and ongoing

Energy Reporting

Energy efficiency projects

Compliance
We'll look at these areas in more detail, demonstrating how when combined even in challenging times.
Transparent & Independent Procurement for stability in unstable times 
If you're going out to tender for energy management services, procurement is understandably a primary focus. At Ignite, we have a proven track record of delivering significant value to businesses by taking an active and independent approach to their energy procurement. This means you can be confident that you're only paying for the best value energy from a supplier that meets your requirements without worrying about hidden fees or charges. On top of this, we put in place a procurement strategy that is optimised for value but always takes into account your individual appetite for risk, whether you're on a fixed or flexible contract.
Our total procurement service means you get the best energy, in a way that works best for your business and wider strategy.  This may involve renewable energy procurement and Corporate Power Purchase Agreements.  
Find out more about why independence and transparency matter when it comes to energy procurement and understand the importance of renewable energy for businesses. 
Energy Data to Drive Meaningful Change
High quality data is key to effective energy management and core to driving meaningful change. At Ignite, we ensure that data is collected completely and accurately to provide a clear picture of what is happening across your entire business. We tailor reports and dashboards so energy managers have the data they need at the click of a button. Our expert teams analyse your data and share insights to drive down costs and improve energy efficiency. 
We've also helped businesses increase employee engagement with energy data and sustainability at all levels of their business, resulting in transformational change.
Find out more about our energy data analysis and energy data management & reporting.
Bill validation to recoup and save money
Large multi-site businesses are almost always overpaying for energy due to errors. In this time when every pound counts, we offer a rigorous bill validation process that ensures every element of your invoices are checked and any discrepancies quickly identified and resolved. 
Our experts offer the most comprehensive service out there, based on years of experience across various industries. With a comprehensive understanding of utility contracts and all charges, we make sure your bill is correct. Our service gives you confidence that you're only paying for the energy you use, at the rates and charges agreed. We also offer a historical bill audit so that you can recoup any overcharges from up to the previous six years, bringing money back into your business.   
Find out more about our bill validation service and historical energy bill audits.
Energy Efficiency Projects to reduce demand, be greener and save money
At Ignite, we deliver innovative energy saving projects and initiatives to dramatically reduce energy usage across your entire estate. We use the latest and best technology to improve efficiency at scale. We've been rolling out these projects for over a decade, and seen businesses save £millions. Projects can be rolled out with Covid-safety measures fully observed.
Find out more about our energy efficiency and energy saving projects.
Sustainability, Going Green and Meeting Net Zero Targets
Our priority is to always form long and meaningful relationships with our customers. We've never had a customer leave us due to underperformance in over ten years. When it comes to achieving sustainability goals and net zero targets, you need a long term partnership and strategy. Carbon neutral status is only achievable with a joined-up strategy that looks at energy management holistically. We focus on renewable energy procurement, rolling out energy efficiency measures and helping you engage employees at all levels of business to inspire meaningful change.
Find out more about achieving net Zero Targets with a clear strategy. 
Compliance – Meet Standards and Remain Compliant with confidence
With so many other things requiring your attention right now, you don't want to worry about compliance with energy and carbon-related legislation. That's why Ignite provide a thorough and comprehensive compliance service to give you complete peace of mind. You get to benefit from the proactive and interconnected aspects of our energy management service while remaining fully compliant.
Compliance can be a headache, and that's why we ensure you meet all the latest requirements and reporting standards from SECR to ESOS.
Discover our energy compliance service.
Zero Capex for Employee Engagement and transformation 
We know that upfront capital is in short supply for many businesses at the moment. With this in mind, Ignite look for innovative ways to reduce energy usage. One way is providing a tailored approach to employee engagement using energy consumption data. We have seen success in reducing consumption and achieving substantial savings by engaging regional and site managers and employees with energy data.
We share best practice across your portfolio, but can also directly liaise with underperforming sites, helping managers identify wastage and improve results. We have done this with New Look, SSP, Pets at Home and WHSmith among others. And the good news is that it requires zero capital expenditure (zero cost energy reduction campaigns) making it an amazing way to drive down consumption and save your business money.
Act now – take back control 
It's important to act quickly to secure savings. Every day that passes can equate to missing out on thousands of pounds in savings. In such uncertain times, you can't afford for money to be going out that you can't recover. The savings lost by waiting for even a single year can go far above any cost incurred. 
Ignite Energy – Your Energy Partner through Good Times and Bad
At Ignite, our end-to-end energy management will help you survive these turbulent times. It offers a way to survive and even thrive by taking back control of your energy across your entire estate and focusing on data-driven change.
If you want to discuss how we can work together in more detail contact us today.
Speak to us on 0333 023 2222 or email us at enquiries@igniteenergy.co.uk.